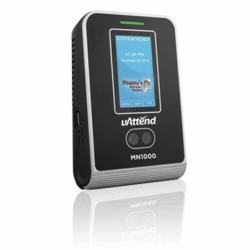 Now there is a way to clock employees in and out without them even needing to have any contact with the clocking terminal
Somerset, England (PRWEB UK) 12 February 2013
Access-To-Time, the leading provider of uAttend Employee Management Systems in the UK, announces the launch of the MN1000 - a new biometric face recognition time and attendance system that is set to take the UK market by storm. With the launch of MN1000, Access-To-Time is following up the tremendous success of its previous workforce management solutions such as the biometric and RFID time clocks from uAttend which have propelled Access-To-Time to the forefront of employee time and attendance solutions market in the UK.
The MN1000is designed to function by utilising sophisticated facial recognition firmware that authenticates the identity of an employee and clock him/her with just a simple glance at this advanced facial recognition system. This state-of-the-art biometric facial recognition solution will do away with any need for coming into any contact with the actual device, providing the most hygienic clocking method available today in the UK. It even works in the dark!
The MN1000 provides facial clocking in and out for up to 100 employees along with traditional options such as RFID card readers and PIN pads where an organisation can enroll an unlimited number of employees. This way, users can use the same device for multiple clocking in options for huge numbers of staff.
Similar to other uAttend time clocks, these touchscreen units are extremely easy to implement and do not require any specialised skill or training to set up or operate. The device comes with the trusted plug and play Internet connectivity feature that has been a hallmark of all uAttend time and attendance solutions. Being a cloud-based solution, the recorded time and attendance data will be stored to uAttend's web-based time tracking software in real time where it can be accessed from anywhere in the world.
Priced at less than £349.00, the MN1000 is all set to become the most affordable face recognition time and attendance system in UK. Furthermore, the MN1000 will be made available with a lifetime guarantee as with all uAttend time clocks. This ensures that this most advanced workforce management system is the last time clock any organisation will ever need to buy.
While announcing the launch of one of the most technologically advanced face recognition time clocks, Alastair Slade, Director of Access-To-Time said, " Now there is a way to clock employees in and out without them even needing to have any contact with the clocking terminal.That, along with being able to clock employees on multiple sites and even remotely using smart and land line phones, means the system is really able to deliver!"
Access-to-Time, based in Somerset, helps businesses and organisations to save time and money by efficiently managing their workforces' attendance using powerful Time and Attendance (T&A) systems. The company is working to change the way we do T&A.
Access-to-Time provides computerised T&A systems plus expert advice and reliable on-going support to employers from all types of businesses and organisations who are managing 5 to 5000 plus employees. Its clients enjoy stress-free monitoring of working hours and absences, time-savings and reduced payroll costs, with savings of at least 2 per cent of payroll being demonstrated when a T&A system has been implemented.
For further information please contact:
Jacqui Southway
Jacqueline Southway PR
Tel: 01454 201869 / 07747 804703
Alastair Slade
uAttend/Access-to-Time
Tel: 01761 410015 / 07714 898902