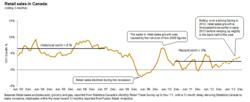 Retail sales growth is likely to stay in the range of 2-4% until we see a dramatic rise in Discretionary Income
Toronto, ON (PRWEB) February 19, 2013
Fusion Retail Analytics is forecasting retail sales growth of 2.7% for 2013, slightly ahead of the 2.5% growth set in 2012.
"Retailers can expect a slower start to 2013 as they roll over a very strong Spring last year, but retail sales growth is expected to recover in the back half of the year," says Joe Thacker, chief strategist of Toronto-based Fusion Retail Analytics.
"Retail sales growth is likely to stay in the range of 2-4% until we see a dramatic rise in Discretionary Income – the amount of money Canadians have left after paying their taxes and cost of living expenses. The key variable to watch is unemployment; if this drops below its tipping point of 6.5%, Canada will start to see strong wage gains, pushing Discretionary Income up and flowing into retail sales," says Thacker.
What will temper retail sales in 2013 is lower home turnover, cooler temperatures, and ever-increasing cross-border shopping in 2013.
Those who have recently moved purchase from more categories and spend more than other retail consumers, making home turnover – a measure of recent movers – a major factor in overall retail sales growth. Unfortunately, due to fairly strong growth in early 2012 and new mortgage rules, home turnover in 2013 is expected to trail 2012, maintaining the downward trend into the Spring before starting to recover later in the year, spelling bad news for retailers in home improvement, mattresses, furniture and appliances.
Warmer temperatures can jump-start the Spring season, a key sales period for many retailers. This is exactly what happened in 2012, which included the warmest month of March in over 10 years, pulling seasonal sales forward and kicking off a warmer-than-average year. With average temperatures expected and only 2 months forecasted to be warmer in 2013 than they were in 2012, retailers will likely not have the benefit of a hot 2013, cooling the retail sales forecast.
American retailers continue to slowly eat away at Canadian retail sales. With the Canadian dollar expected to stay around parity with the US dollar, the trickle of Canadians travelling across the border will continue to increase in 2013, stealing an additional 0.4% sales growth from Canadian retailers.
About Joe Thacker:
Joe Thacker is the Chief Strategist of Fusion Retail Analytics. He works exclusively in the retail industry as an advisor to a dozen senior retail executives on designing, implementing and optimizing retail strategies. He has 18 years of retail experience and has helped reshape the growth plans of more than ten major retailers in Canada.
For more information download Fusion's 2013 Canadian Retail Outlook report at http://www.slideshare.net/jcthacker3/2013-canadian-retail-outlook, visit http://www.FusionRetailAnalytics.com and follow @FusedThinking on Twitter.
Media Contact
Joe Thacker, Chief Strategist
Fusion Retail Analytics
Telephone: 866.398.9927 ext. 701
Email: joe(at)fusionretailanalytics(dot)com