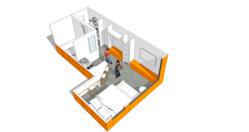 ADD Inc micro units feature space-saving micro-kitchens, bed alcoves, bike hangers, and creative storage. Residents only rent what they need – a bedroom, bath, small sitting and eating area - and share the rest.
Boston, Massachusetts (PRWEB) February 14, 2013
On February 11th 2013, ADD Inc unveiled a full-scale, 300 square foot micro unit mockup in the Waterfront Square lobby of the Atlantic Wharf building. The mockup showcases the firm's design work on unique, smaller-than-market apartments for emerging professionals. ADD Inc has been a leader in the micro unit conversation since 2010, when Boston's Mayor Menino invited Senior Associate Principal Tamara Roy and 4 other architects to answer the question: "What is Innovative Housing?" Supported by Principal B.K. Boley, Tamara turned to ADD Inc's youngest staff members who responded unanimously: "make it affordable."
In the two years since, ADD Inc's 20-person What's In? task force, led by Tamara Roy, Aeron Hodges and Quinton Kerns, has brainstormed housing solution with the target demographic and brought excitement to the challenge. Together, they highlighted the gap between the supply of luxury residential projects in development or construction and the demand for lower cost housing for the creative and innovation economy workforce. Young professionals, often cramped with roommates in outlying neighborhoods or suburbs, want their own place in the city and they don't mind if their unit is small.
The task force found that the young professionals surveyed pay an average of 44% of their income towards rent with some paying upwards of 50%. The number of individuals aged 25 – 44 living in the city core has decreased while individuals 44 years old and over are moving back in droves. In highly competitive rental markets, Baby Boomers, with high incomes and assets, out price younger tenants often burdened with college debt.
ADD Inc has designed over 100 units 400 square feet and under within Boston's Innovation District. Two projects are in construction: Pier 4 for The Hanover Company and Boston Wharf Tower for Gerding Edlen, with 2 others in planning stages. Governor Deval Patrick, the Dukakis Center, and local business leaders, unable to house their workers affordably, are calling for 10,000 – 12,000 new units per year. Tamara credits Mayor Menino for encouraging developers to pursue a different housing model that will increase supply and diversify the market.
Tamara likens micro unit to designs such as the Mini-Cooper and SmartCar. Car manufacturers didn't ignore a market that couldn't afford luxury brands; instead they invented cheaper, smaller, 'hipper' models with improved gas efficiency. ADD Inc has designed micro units in the same way – with space-saving micro-kitchens, bed alcoves, bike hangers, and creative storage. And like the ZipCar, residents only rent what they need – a bedroom, bath, small sitting and eating area - and share the rest - group living/party room, common kitchen, green roof. The exhibit is sponsored in part by ADD Inc, Boston Properties, and Suffolk Construction, and will be on display through March 8th. The What's In? mobile app can be viewed at: http://whatsinmicrounits.myw2m.com/
ADD Inc, a premier architecture and design firm, creates award-winning projects across the country from its offices in Boston, MA and Miami, FL. With an innovative spirit and deep expertise, the firm's design teams develop a guiding vision for each project to enhance value and enrich communities. By merging that vision with collaboration and business savvy, ADD Inc delivers consistently notable results in workplace, mixed use, academic, retail, branding and residential design.