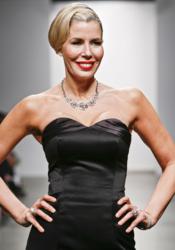 "I believe there are many opportunities to inspire millions of women across the country that may otherwise never experience the way fashion and jewelry can come together in an awe-inspiring manner."
New York, NY (PRWEB) February 12, 2013
Marilyn Monroe jewelry, a proprietary collection created and sold by Jewelry Television, was featured by fashion designer Malan Breton on Sunday, Feb. 10 during his fall 2013 show at Pier 59 in New York City. Breton accessorized select ensembles with Marilyn Monroe jewelry as he unveiled Malan Breton Fall 2013 during New York City fashion week.
"The Marilyn jewelry added the perfect touch of elegance and glamour to my fall collection," said Breton immediately following the show. "I was watching Jewelry Television one evening and when I discovered this jewelry collection I knew immediately the timelessness of the pieces would be ideal for my show. The movement and sparkle of many of the pieces were the perfect finishing touch."
Breton wowed a full house with his whimsical yet sleek garments including tapered gowns, suiting and sportswear in chiffon, and unique interpretations of Hollywood style fur dusters, sleeveless vests and trench length coats in unexpected colors. Breton has consistently shown his women's collections during New York City Fashion Week since 2005.
"We are delighted with the outcome of Malan's show," said Jill Johnson, VP of marketing for JTV. "Marilyn Monroe jewelry was presented in a different light and introduced to an entirely different group of consumers."
The highlight of the evening was the finale when Aviva Drescher, Real Housewives of New York City, walked the runway in a Palais Royal gown in midnight black silk.
"I hope to continue my collaboration with Jewelry Television and the Marilyn Monroe jewelry collection," said Breton. "I believe there are many opportunities to inspire millions of women across the country that may otherwise never experience the way fashion and jewelry can come together in an awe-inspiring manner."
JTV offers more ways to shop. Check your local television listings, shop online or download free mobile shopping apps for the iPhone, Android, and iPad.
About Jewelry Television®
Jewelry Television® (JTV) is the only interactive, multichannel shopping network that focuses exclusively on the sale of jewelry and gemstones. The privately-held company was founded in 1993 and broadcasts high definition programming 24 hours a day, seven days a week, to more than 80 million unique households in the U.S. Jewelry Television® was recently ranked the 13th largest retailer of jewelry in the U.S. by National Jeweler. JTV.com is the fifth largest jewelry destination on the internet according to Internet Retailer's Top 500 Guide for 2010.
About Malan Breton
Born in Taipei, Taiwan Malan Breton's love of fashion and design began at age 11 as he began to sew and design clothes. He graduated from Julliard, speaks seven languages and has shown his Malan Breton Collection during New York City Fashion Week since 2005. The label has been carried in luxury stores such as Harvey Nichols and Lane Crawford. In addition to dressing countless celebrities, Breton's fashions have been mentioned on the Oscars, Grammy's, Golden Globes and red carpets around the world. He has been a featured expert on fashion television shows, had his own series, and has a weekly fashion column in OK! magazine. More details at malanbreton.com.