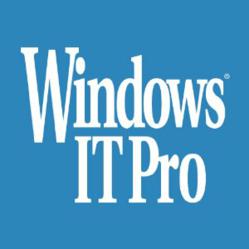 One of the defining characteristics of RDM is that we listen to our community, and learn from them where we're doing a good job, and where they want us to improve.
Montreal, Quebec (PRWEB) February 14, 2013
Devolutions announced today that its Remote Desktop Manager (RDM) tool, which is used by more than 200,000 customers in over 80 countries worldwide, has been recommended in Windows IT Pro Magazine.
In a review published on January 23, 2013, Windows IT Pro Magazine writer and independent IT consultant Russell Smith took readers on a tour of RDM's features and benefits, and highlighted the tool's functionality with respect to set-up, session management, usage and troubleshooting.
Smith wrapped up his review by concluding that "Remote Desktop Manager is a great tool for support technicians," and that it "can help boost Help desk efficiency for organizations and service providers that need to manage access credentials for multiple systems or customers."
"Naturally, we're very pleased that RDM received a positive recommendation from renowned IT professional Russell Smith, and that it was published in an established and respected publication like Windows IT Pro Magazine," commented Devolutions' CEO and founder David Hervieux. "However, we aren't about to rest on our accomplishments. One of the defining characteristics of our company is that we listen to our community, and learn from them where we're doing a good job, and where they want us to improve. We'll keep improving RDM, Password Vault Manager and our other products, because that's the only way we can deliver the powerful, productive and intelligent solutions our customers want – and expect from us."
The current version of Devolutions' RDM 8.0, which was released in late 2012, features an entirely new customizable UI and several other major improvements. IT Pros, network administrators, project managers and others can download a free 30-day trial version at http://remotedesktopmanager.com/Home/Download.
After the trial, users can continue using the free Standard Edition, or upgrade to the enhanced Enterprise Edition for a nominal licensing fee. A number of no-cost RDM add-ons are also available for instant download from the Devolutions' website.
For more information or media inquiries, contact Maxime Trottier, Marketing Director, at (450) 935-0608 or mtrottier(at)devolutions(dot)net.
About Devolutions
Established in 2004, Devolutions is a Canadian-based company located near Montreal, Quebec. The firm currently has over 200,000 users in over 80 countries. The firm's mission is to develop innovative enterprise software that helps users cost-effectively, simply and effectively achieve their network management, password management, credentials management and security goals. The firm is also committed to providing exceptional technical support, ensuring an excellent user experience that exceeds expectations, and delivering high performance with superior quality. The firm's currentroster of solutions includes Remote Desktop Manager, Password Vault Manager,Remote Desktop Manager Online and Remote Desktop Manager Server. Learn more at http://devolutions.net.