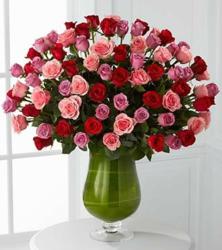 Atlanta, GA (PRWEB) February 13, 2013
Peachtree Petals, a recognized leading Atlanta florist specializing in premium floral arrangements and wedding floral decor services, announces their Valentines' Day Pick Up Specials. The promotion is an effort to create a higher level of customer loyalty and increase sales growth during Valentine's Day week. Peachtree Petals pursues to be the best choice in high-quality floral bouquets nationwide.
The Valentine's Day Pick Up Specials is being advertised via e-marketing promotions and on their website. A Share The Love marketing postcard has been e-mailed to thousands of potential customers highlighting the Pick Up Special. Customers can simply click on shop now with the marketing postcard, which will link them directly to all of their pick up specials. The primary Valentine's Day Pick Up Special Peachtree Petals is promoting is their One Dozen Red Roses Arrangement for only $39.99. The bouquet consists of their finest 16-inch red roses, accented with lush greens and a quality glass vase. It is approximately 12 inches in diameter. Other pick up specials include various premium Valentine's Day flowers such as the One Dozen Color Rose Arrangement and their very own Valentine's Day Spring Bouquet for $29.99.
The Valentine's Day Pick Up Specials will be available until Valentine's Day. The flower shop has regular deals weekly. The florist company is engaging in heavy advertising, and marketing a variety of floral discounts leading up to Valentine's Day as well. Peachtree Petals also has an assortment of Valentine's Day flowers to choose from for delivery also. Peachtree Petals offers its' own free same-day delivery of all their arrangements within the Atlanta and Metro-Atlanta area.
Peachtree Petals is a well-known leading Atlanta florist and recognized Master Florist nationwide. From wedding bouquets to Valentine's Day flowers, Peachtree Petals is able to meet all of your floral needs. Their floral designers have over 50 years of experience and enjoy their craft. Based in Atlanta, Georgia, Peachtree Petals services a growing list of clients, including company floral subscriptions and weekly floral services.