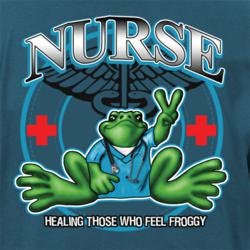 Gloucester, Va. (PRWEB) February 13, 2013
In honor of the men and women whom nearly every person has had reason to interact with and rely on for medical care, Peace Frogs is pleased to release one of its newest occupation frog designs, this one in honor of nurses.
"Ask a patient, or the loved one of a patient, about a nurse, and while they respect the science and medical skill that goes into their job, you'll probably hear a story," said Catesby Jones, president and founder of Peace Frogs. "You'll probably hear about compassion, and love. And of someone who was there when you needed them most."
According to Scrubs, the Nurses Guide to Good Living, there are more than 5.5 million nurses and nurse aides in the United States.
"That's more than the populations of 30 states and five times the size of the U.S. Army," according to Scrubs. "They are injured more than construction workers, and assaulted more that prison guards. They also save lives."
For that, Jones said, Peace Frogs created the nurse frog.
"Here's to all nurses," Jones said. "Thank you for healing those who feel froggy."
Interested in using the nurse t-shirt to raise money for a medical or other community group?
Peace Frogs offers an incentive program, called Peace Frogs FUN-Raisers, for groups to raise money for their cause.
"Peace Frogs does not represent any form of activism; rather, we are aware that now, perhaps more than ever, the entire planet needs some positively peaceful feelings," Jones said. "That's why it's great that we have found a way to support as many groups as want to get involved."
Register for the program at http://www.peacefrogs.com/affiliate_register. Peace Frogs will send you a special Peace Frogs web address link that can be shared in an email blast, posted on a website, Facebook or Twitter. Groups registered with the program will receive 15 percent of all sales made from that link.
In December 2012 alone, Peace Frogs made donations to multiple charities across the country. Since the FUN-Raiser incentive program started in 2011, more than 50 groups have raised money through Peace Frogs.
About Peace Frogs:
Established more than 25 years ago by Catesby Jones, the Virginia-based Peace Frogs apparel company promotes positively peaceful living. The apparel and gift products are featured online, in more than 800 specialty stores around the world and via an annual catalog. With 16 free standing stores and 20 licensees, the Peace Frogs brand grows in popularity each year. For more information about Peace Frogs, contact Catesby Jones at catesby(at)mindspring(dot)com.