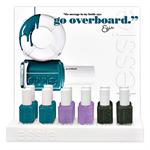 We are delighted that we have met our sales target so early in the month! It shows continued loyalty from our customers for the services we provide
(PRWEB) February 14, 2013
eNail Supply, the online retailers and supplier of nail beauty products to beauty professionals around the world are experiencing high sales and announced recently that they had met their monthly targets early. The high sales figures the company is enjoying can be attributed to the strong sales of popular beauty brands like Essie.
The company's management team were delighted by the sales figures. Their sales team reported a massive surge in sales and they are sure this is because of the well timed discount Essie nail polish that has been available recently.
CEO of eNail Supply, S Arya, said, "We are delighted that we have met our sales target so early in the month! It shows continued loyalty from our customers for the services we provide. We are certain this surge in sales is because we have offered discounted Essie nail polish recently. We provide many popular brands in our online store, all of the best nail beauty available. However, Essie nail polish range, in fact all the Essie products, are our top sellers. We knew the discount Essie nail polish would be popular but had no idea it would as positively affect sales as it has done."
eNail Supply are now going to use their various sales monitoring systems to keep an eye on which brands are the most popular. Although Essie nail polish has been the top seller for some time now, they want to make sure they are aware of the trends and buying behaviours of their customers.
The sales of top brands consistently beat the other brands and tend to be the most talked about brand by customers, who let them know the best performing products and which have the widest range of colors or styles.
Discounted Essie nail polish will still be available via their online retail store, the company say. They have no intention of changing the status quo and want to see continued healthy sales on the tops brands now and in the future. They see it as vitally important to maintain healthy sales and keep the company in a strong position within the market.
The company are hoping their customers will continue to buy and enjoy the products they need and keep telling them their favorites. In return, eNail Supply will continue to monitor sales and feedback so they can always be sure that everything their customers need is in stock and available at excellent and discounted prices.
About us -
eNail Supply supplies professional and salon-quality beauty products for the hands, feet and nails. It stocks a huge rand of cheap nail polish brands including discount Essie nail polish, the whole Essie range of Essie nail polish and the specially discounted Essie nail polish colors, all for shipping worldwide. eNail Supply provide nail supplies online to licensed nail technician, aesthetician, depilatory professionals and beauty consultants as well as regular shoppers. It offers worldwide delivery and complimentary help and advice from a team of qualified technicians. Detailed information about discounted products can be found on the website.