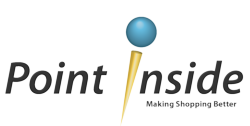 "Retailer branded apps with 'store mode' capabilities including dynamic store maps, exact product locations and most efficient store routes, increased customer interaction by 5X."
Bellevue, WA (PRWEB) February 12, 2013
Point Inside today released its Point Inside Mobile Shopper Indextm (PIMSI) data that proves the benefits of in-store location technologies in retailers' mobile apps. These data, collected through the 2012 calendar year from a range of retailers, show apps with in-store location and associated store-centric features drive five times more shopper engagement than identical apps without these features.
Retailer branded apps that include these capabilities – often known as "store mode"—significantly increase customer interactions with retailers, the data show. "Store mode" capabilities include dynamic store maps, the ability to display exact product locations, and the most efficient routes through the store to fulfill a shopping list. "Store mode" also provides deep customer insights to retailers and delivers highly personalized content based on current purchase intents, past purchase behaviors and the shopper's location inside the store.
"When we began collecting data from retailers that have integrated Point Inside's powerful and unique in-store capabilities into their branded apps, we expected strong results, but five times the shopper engagement was a surprise even for us," said Josh Marti, CEO of Point Inside. "These data prove the value of those features and create a compelling opportunity for retailers to really connect with their customers to drive additional sales and increased customer loyalty."
The data were collected through a year-long A|B test using otherwise identical apps that differed only in the availability of indoor location features. Customers who had access to "store mode" capabilities had five times more interactions with the app. Interactions include the creation of shopping lists, the number of items in the shopping list and the number of shopping sessions.
Additional insights:

The fastest growing segment of shoppers are those who use the apps 5 or more times in a month. This segment grew from 17% to 30% of the total users with the number of users increasing 14x throughout the year
The average number of items in the shopping list increased by 1.5x
Store Mode features include:

Indoor maps: View the store layout, services, product locations and shopping list routes.
Product locator: See exact locations of products by dropping pins on the indoor map.
Shopping lists: Understand what your customers want to buy.
Efficient routing: Show the best path through the store to fulfill the shopping list and create time for additional purchases.
Engagement engine: Deliver contextual product suggestions, offers and other content in real-time based on personalized profiles and shopper location throughout the entire shopping process.
In-store mobile search: Engineered specifically to leverage in-store and mobile use.
Shopper location: Know exactly where customers are inside the store and send relevant messages.
Geofencing: Alert shoppers to the proximity of retailers' stores, including customized location-based messages.
Deep customer insights: Detailed analytics throughout the entire path to purchase including shopping lists, where time is spent time in the store and the effectiveness of offers.
Point Inside today also announced the "Point Inside Store Mode Analysis Program" for retailers. Under this program, Point Inside will provide qualified retailers free customized demonstrations and audits of how "store mode" can drive sales and customer loyalty in their own stores. Using the retailer's own data, Point Inside will show how store maps, product locator, efficient shopping list routing, personalized messages and other features increase shopper engagement.
Retailers interested in learning more about the Point Inside Mobile Shopper Index Data or the Point Inside Store Mode Analysis Program can contact Point Inside at contact(at)pointinside(dot)com.
About Point Inside
Point Inside is the leading provider of "store mode" capabilities for retailers to incorporate into their own branded apps for enhanced in-store shopper engagement. Key features include indoor location technologies, in-store search, personalized recommendations and private ad network capabilities. The platform helps retailers, brands and manufacturers increase revenues, customer loyalty and insights giving shoppers a real-time, in-store retailer connection that saves them time and money. Privately-held Point Inside is based in Bellevue, WA. More information can be found at http://www.pointinside.com.