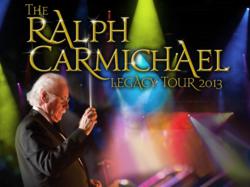 Nashville, TN (PRWEB) February 13, 2013
Nat King Cole's "The Christmas Song" and Roger Williams' "Born Free" are iconic songs that have one thing in common: composer/conductor Ralph Carmichael. Carmichael is making his mark in music history once again as he becomes the oldest conductor – at age 84 -- to embark on a 30-city tour this year. The Ralph Carmichael Legacy Tour will include Ralph Carmichael's Big Band, local symphonies in each market as well as a mass choir made up of local singers in every city.
Carmichael's resume crosses all musical lines and includes many of the biggest names in music including Bing Crosby, Elvis Presley, Tex Ritter, The Carpenters, Rosemary Clooney, Pat Boone, Peggy Lee, Ella Fitzgerald, Duke Ellington, Count Basie, Debby Reynolds, Jimmy Durante, among many others. Carmichael was an integral part of Nat King Cole's career, both in the studio and on the road, until the singer's death in 1965. Carmichael also composed music for such popular television shows as "I Love Lucy," "Bonanza," "Red Skelton," and "Roy Rogers & Dale Evans." He had a long time association with pianist Roger Williams with whom he scored the million-selling hit song, "Born Free." Carmichael also scored music for dozens of movies including the sci-fi classic, "The Blob."
Carmichael is affectionately known as the "father of contemporary Christian music" for his transitory influence on the style of music that was slowly embraced by mainline churches in the early 1960s. His record label is credited for launching the careers of The Winans (older brothers to Bebe and Cece) as well as Andrae Crouch who became one of the most renowned modern hymn writers. Carmichael also worked with World Wide Pictures, the company that produced full-length feature movies for the Billy Graham organization. He was also the catalyst behind the first gospel concert held at the famous Hollywood Bowl. Carmichael was inducted into the Gospel Music Hall of Fame in 1985 and toured as conductor for the highly successful Young Messiah Tour for several years. In 2001, he was made a member of the National Religious Broadcaster's Hall of Fame.
The Ralph Carmichael Legacy Tour is being sponsored by Holt International, a faith-based adoption and child services organization. The tour producers have opened the Mass Choir participation to singers from all walks of life. To join a choir or order tickets for the concerts, visit the tour website at http://www.RalphCarmichaelLegacyTour.com.