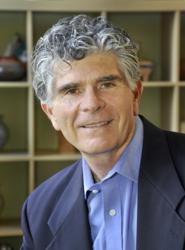 Keene, New Hampshire (PRWEB) February 14, 2013
Oran B. Hesterman, a national leader in sustainable agriculture and food systems, will be the keynote speaker at the commencement for Antioch University New England (AUNE) students on May 18.
Hesterman is president and chief executive officer of Fair Food Network, a nonprofit organization based in Ann Arbor, Michigan. He is the author of Fair Food: Growing a Healthy, Sustainable Food System for All, as well as more than 400 reports and articles on subjects such as cover crops, crop rotation, and the impact of philanthropic investments on food systems practice and policy.
Before starting Fair Food Network, Hesterman co-led the Integrated Farming Systems and Food and Society Programs for the W.K. Kellogg Foundation for fifteen years. During that time the foundation seeded the local food systems movement with more than $200 million. Hesterman worked on national and international food system projects and collaborations, and organized seminars on sustainable agriculture and community-based food systems on behalf of the foundation.
Prior to the Kellogg Foundation, Hesterman was a fellow at the National Center for Food and Agriculture Policy in Washington, DC, and a professor of crop and soil science at Michigan State University from 1984 to 1995.
Hesterman earned his bachelor's degree in plant science/vegetable crops, and his master's degree in agronomy from the University of California, Davis. He received his doctorate in agronomy and business administration from the University of Minnesota, St. Paul.
At the May 18 commencement, AUNE will confer master's degrees in applied psychology, education, environmental studies, and management. Doctoral degrees in clinical psychology, marriage and family therapy, and environmental studies will also be awarded.
About Antioch University New England (AUNE)
Antioch University New England offers highly respected doctoral, master's, and certificate programs in education, environmental studies, management, and psychology. Located in Keene, New Hampshire, this unique institution serves approximately one thousand students each year. Our graduates have gone on to be leaders of positive change, working toward a more just and sustainable society. Founded in 1964, Antioch University New England is the oldest of Antioch University's graduate campuses. Learn more at: http://www.antiochne.edu.
About Antioch University
Inspired by the work of pioneering educator Horace Mann, Antioch University, a private, non-profit, 501(c) 3 institution, provides learner-centered education to empower students with the knowledge and skills to lead meaningful lives and to advance social, economic, and environmental justice. With campuses in Keene, New Hampshire, Los Angeles, Santa Barbara, Seattle, and Yellow Springs, Ohio, Antioch University is a bold and enduring source of innovation in higher education. The University is accredited by the Higher Learning Commission of the North Central Association.