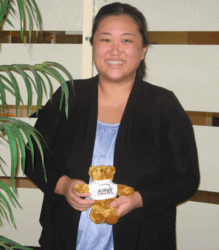 Pittsburgh, PA (PRWEB) February 14, 2013
After the tragic events at Sandy Hook Elementary in December 2012, many people across the country were looking for ways to help the community start to heal. Leah Wagner, a Relocation Specialist at AIReS, overheard coworkers discussing how they wished there was some way to help.
Ms. Wagner learned through a friend that CBS Radio and local station Y108 were holding a drive to collect teddy bears to send to the children and first responders in the Sandy Hook community. Gaining the support of management at AIReS, she coordinated a week long drive at both of the company's Pittsburgh branches.
"Fireman, police officers, ambulance crews, therapists and child psychologists, and other professions who work with children in the time of crisis often have stuffed animals in their vehicles, even their personal cars, in case a situation presents itself where a child needs to be comforted," Ms. Wagner said in an email to staff at both the Corporate and Central Regional Offices.
After five days, the staff at AIReS collected over 200 teddy bears for donation, including a box of AIReS Cares bears donated by the company. Cash donations were used to create a unique additional charitable tie in and were used to purchase teddy bears being sold by a local retail jeweler to benefit St. Jude's Children's Hospital.
On the amount of donations, Ms. Wagner said, "The credit all belongs to the team at AIReS. I may have sent the initial email, but our staff's generosity is what made this a success."
CBS radio collected over 6,500 bears, more than needed or imagined. Donations were split between Sandy Hook and causes in the local Pittsburgh community.
Ms. Wagner recently discussed the successful drive she organized at AIReS on Pittsburgh radio station Y108. You can listen to the segment here.