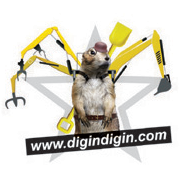 Lachine, QC (PRWEB) February 12, 2013
DiginDigin which is an online community designed for graphic design artists to be able to connect, build a network and display an online graphic design portfolio just introduced the latest feature of the site. The company introduced the "Graphic Design Portfolio." This feature is an excellent online tool for graphic design artists who can display their latest works in one convenient location. The Graphic Design Portfolio is set up so that the artist can upload their personal graphic design samples so that potential clients can get a good feel for what the artist is capable of producing. It also allows the artist to upload their graphic designer resume.
When Dora Wang set up the online DiginDigin community which connects clients with artists and graphic design artists with each other, she wanted to make sure that the artist had an acceptable means of showing the online community the types of creative power they had. Sharing unique graphic design examples was the premise behind the creation of the Graphic Design Portfolio.
For those readers who want to get a look at what a graphic design portfolio is capable of demonstrating, it can be viewed on the DiginDigin official site at: http://www.digindigin.com/graphic-design-portfolio-examples/1403-dora_wang GRaphic design artists can reap the many benefits of having a convenient location to post their artwork as well as their graphic designer resume. And clients can look through the wide variety of creative abilities displayed by top notch graphic design artists to select the one that is right for developing their logo, web design or other artwork.
About Dora Wang
Dora Wang is the brilliant mind behind the DiginDigin community. She envisioned an online community where graphic design artists could not only display their artwork, but also a place for them to connect and share their own personal tricks of the trade. This type of collaboration is essential to such a creative group. Clients can connect with graphic design artists through the site: http://www.digindigin.com where artists can design logos, web sites, T-shirts and many other types of artistic designs.