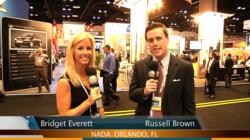 Atlanta, GA (PRWEB) February 12, 2013
The CBT News crew is back from Orlando with interviews and special insight on the week's events. Car Biz Today caught up with big names in the retail automotive industry and will provide viewers with in-depth coverage from the Digital Marketing Strategies Conference, The Best Training Day Ever and the NADA convention.
Today's show features: David Kain, president of Kain Automotive, to discuss recruiting strategies and the hiring process; sales trainer Joe Verde, president of Joe Verde Sales & Management Training, Inc.; Jeff Cowan, president of Jeff Cowan's ProTalk; Kevin Filan, vice president of customer marketing and industry relations at AutoTrader.com.
Many more interviews will be aired throughout the week highlighting various trainers and experts in the business.
Be sure to go to http://www.cbtnews.com for today's exclusive interviews and current news in the retail automotive industry.
CBT News/Car Biz Today, is an online news source dedicated to providing the retail automotive industry with news, training and event coverage through various forms of multi-media journalism. The online news source has more than 25,000 subscribers made up of new car dealers and their personnel. CBT News is home to award winning broadcasters and is headquartered in Atlanta, Georgia.
Visit CBT News at http://www.cbtnews.com