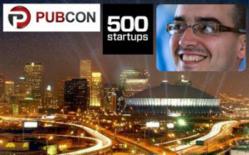 We're thrilled to feature Dave McClure as a keynote speaker at Pubcon New Orleans 2013, where his unique spin on the role of social media and optimization in Internet startups will make for a fascinating and insightful presentation. —Brett Tabke
AUSTIN, TX (PRWEB) February 12, 2013
Pubcon, the premier social media and search conference, is happy to announce that Dave McClure, noted venture capitalist and founding partner at 500 Startups, will be presenting a keynote address at Pubcon New Orleans 2013 during the week of April 22 – 25 at the state-of-the-art New Orleans Convention Center.
McClure's Mountain View, California-based 500 Startups is an Internet startup seed fund and incubator program. McClure has been an investor in over 250 companies including Mint.com, Twilio, Wildfire Interactive, TaskRabbit, SlideShare, Mashery, CreditKarma, SendGrid, KISSmetrics, and MakerBot, among many others. McClure has worked in Silicon Valley for more than two decades, with companies including PayPal, Founders Fund, Facebook, LinkedIn, Simply Hired, O'Reilly Media, Intel, and Microsoft. In 2007 McClure helped teach the nation's first class on Facebook and social networking platforms, at Stanford University. From 2001 thru 2004, McClure was director of marketing at PayPal (acquired by eBay in 2002), where he started the PayPal Developer Network program.
"We're thrilled to feature Dave McClure as a keynote speaker at Pubcon New Orleans 2013, where his unique spin on the role of social media and optimization in Internet startups will make for a fascinating and insightful presentation," said Brett Tabke, founder and chief executive of Pubcon.
McClure will bring his passion for helping startups with product and marketing strategy to Pubcon New Orleans 2013. McClure is also the co-founder of Startup2Startup, a regular get-together for Silicon Valley startup entrepreneurs and investors, and leads a travel group called GeeksOnaPlane, that promotes cultural exchange and education for global technology entrepreneurs.
Pubcon New Orleans 2013, supported by the industry's leading businesses, speakers, exhibitors, and sponsors involved in social media, Internet marketing, search engines, and online advertising, will offer a week-long look at the future of technology presented by McClure and many more of the world's top technology speakers.
Pubcon New Orleans 2013 will be among the largest gatherings of search and social media innovators ever assembled, offering an unrivaled highly-productive conference experience at cost-effective rates, and with the leading technology and online marketing futurists such as McClure who will be in New Orleans, Pubcon is confident that every attendee will come away with valuable new ideas and solutions for their businesses.
McClure will be part of a strong lineup of major keynotes during Pubcon New Orleans 2013, kicking off with Obama for America chief integration and innovation officer Michael Slaby, the chief technology officer behind one of social media's greatest success stories. During the 2008 presidential election cycle, Slaby served as CTO for Obama for America and as technology director for the presidential transition team. Slaby was the digital global practice chair at Edelman and chief technology strategist for TomorrowVentures — Google executive chairman Eric Schmidt's hybrid venture capital fund — where he worked with companies from Fortune 100 to angel-round start-ups on their technology, digital media, and organizational strategy.
The strong Pubcon New Orleans 2013 keynote lineup will include not only McClure and Slaby, but additional major keynote speakers to be unveiled in the coming days.
Pubcon New Orleans 2013 will be held within convenient walking distance to famed Bourbon Street and Harrah's New Orleans, bringing the heart of one of the world's best-known downtown areas alive with great new media and search marketing professionals such as McClure and Slaby, in a major technology conference loaded with Pubcon's famous multiple-track sessions, leading-edge keynotes, and a Monday, April 22 all-day intensive Pubcon Masters Group training program.
Registration is available today at low early-bird rates, for one of the year's brightest and most energetic weeks of social media, search, and online marketing at Pubcon New Orleans 2013.
Learn more and register at http://www.pubcon.com
About Pubcon
Pubcon is a multi-track educational conference hosted by Pubcon Inc. Pubcon, supported by the industry's leading businesses, speakers, exhibitors, and sponsors involved in social media, Internet marketing, search engines, and online advertising, offers an in-depth look at the future of technology presented by the world's top speakers in provocative cutting-edge sessions.
For more information about the conference, contact Brett Tabke at 512-231-8107 or brett at pubcon (dot) com
For more details about sponsorship and exhibition opportunities, contact Strategic Marketing Director Joseph Morin at 512-231-8107 ext 104 or joe at pubcon (dot) com