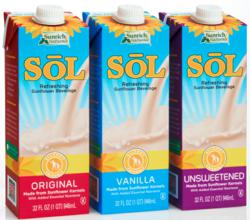 Hope, MN (PRWEB) February 19, 2013
Sunrich Naturals, a leading producer of non-dairy, shelf stable beverages, will debut new packaging for its SoL Sunflower Beverage line at Natural Products Industry Expo West, taking place in Anaheim, CA March 7-10, 2013. SoL will be one of the first beverages in the U.S. to be produced using the Tetra Brik Aseptic Edge design, the latest package from Tetra Pak, the world's leading company for food processing and packaging solutions. All three flavors of SoL – Original, Unsweetened and Vanilla – as well as Sunrich Naturals' line of soymilks will feature the new packaging which offers a striking new design, improved functionality for consumers of all ages, and an even better environmental profile.
"The new Tetra Brik Aseptic Edge packaging is ideal for SoL and all of our non-dairy beverages," said Tina Nelson, Vice President of Sales & Marketing, Consumer Products, SunOpta Grains & Foods Group. "It offers superior preservation of the fresh taste and nutritional content of the product in addition to prolonged shelf life. And Tetra Pak's commitment to protecting the environment, which includes the package's recyclability and renewability, matches our own commitment to sustainable practices."
Nelson and her team will be offering samples of SoL and demonstrating the new packaging in the SunOpta booth, #2242, at Natural Products Expo West. Sunrich Naturals is a SunOpta brand. Learn more and receive a free sample of SoL non-dairy beverage.
Tetra Pak leveraged the latest packaging technologies to improve on the world's most widely used cartons. The new Edge design's refinements include a sloping top, which makes it easier to access, grasp and open the ridged cap, and a wider opening that makes the product easier to pour.
SoL's new Tetra Brik Aseptik Edge carton also benefits the environment in several ways. The new cartons are recyclable and composed of 70% paper, a renewable resource from selectively harvested, re-grown trees. The cartons have a low carbon footprint throughout their entire life cycle because they are made mainly of a renewable resource (paperboard) and use less material than a can or bottle, which creates less waste. In addition, since they are more space-efficient than other packages, more can be shipped at a time, saving energy in transportation and using minimum amount of corrugate packaging in the process to deliver the final products safely.
SoL Refreshing Sunflower Beverage is a nutritional powerhouse and a standout addition to the growing functional beverage category. An eight ounce serving of SoL delivers a whopping 50% of the recommended daily allowance for Vitamin E, 30% for Calcium, 25% for Vitamin D, and 20% for Folic Acid. Enjoying SoL in a smoothie or on cereal for breakfast and having another glass with a meal or after a workout will cover an adult's entire daily Vitamin E and phosphorus requirements.
In addition to SoL's great nutritional profile, the sunflower beverage meets the burgeoning demand for new products that are free of food allergens such as dairy, soy, tree nuts, and gluten. Allergy-friendly SoL works great in place of dairy or nut milk in recipes, too.
The manufacturer's suggested retail price for SoL is $2.69 for 32 ounces.
About Sunrich Naturals
Sunrich Naturals ®, maker of SoL™ Refreshing Sunflower Beverage, has been working with American family farms to produce wholesome organic and natural foods for over 25 years. Sunrich Naturals® believes that healthy, good food starts with a healthy, good Earth. This simple belief guides everything we do – how we work with farmers, handle and process our grains, and produce our natural and organic foods. Our products can be found in many fine supermarkets, natural food retailers, and health food stores nationwide.
Sunrich Naturals® is a brand of SunOpta Inc., a leader in natural and organic ingredients, raw materials and consumer products and the largest sunflower processor in the United States.
About SunOpta Inc.
SunOpta Inc. is a leading global company focused on natural, organic and specialty foods. The Company specializes in sourcing, processing and packaging of natural and organic food products, integrated from seed through packaged products; with a focus on strategically significant vertically integrated business models. The Company's core natural and organic food operations focus on value-added grains, fiber and fruit based product offerings, supported by a global infrastructure.