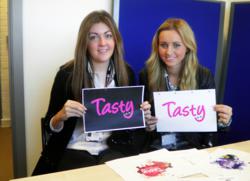 We're always looking for new ways in which to provide our students with the best possible learning experience
Kent, England, UK (PRWEB UK) 12 February 2013
A ready meal revolution is taking place at MidKent College following the launch of a new takeaway service researched, designed and run by students.
Diners at both campuses will soon be able to order high quality food on the go, all prepared by Catering students working under the supervision of experienced chefs.
The branding and research behind the new service – named Tasty – was the work of Maidstone Campus Business students Poppy Wilson, 19, from Hollingbourne, and Isabelle Fort, 19, from Leeds.
The girls' ideas were implemented after they impressed a panel of judges with a presentation outlining their ideas for the brand.
"It's a huge honour for us that the College has decided to go with Tasty," said Isabelle.
"We're very proud and hope the brand will continue to grow even after we have finished our course. It's great for our CVs."
The ready meal service is one of several in-house companies set up by MKC Aspire Ltd – a division of MidKent College designed to enhance the learning experience of students by creating real life opportunities for them.
Other initiatives launched in recent months include a new driving school and Pavilion Events, the latter of which runs external events at the College's state-of-the-art Medway Campus.
MKC Aspire managing director Michael Smith said: "We're always looking for new ways in which to provide our students with the best possible learning experience.
"Students working on Tasty will learn a variety of new skills that may prove invaluable in their later careers, and that's our main priority.
"What's more is that our staff and students will also benefit from being able to take away quick, delicious food at an affordable price – yet another reason why MidKent College is such a great place at which to work and learn."