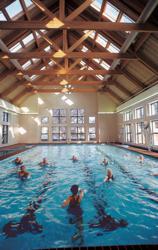 The only way to improve balance is to challenge it.
Evanston, IL (PRWEB) February 14, 2013
What's a good recipe for creating balance? Take pilates, yoga and a little Tai chi, mix with water and you have Aqua Pi-Yo-Chi™, an aquatic exercise program proving very popular with seniors at Westminster Place, a Presbyterian Homes retirement community in the Chicago area.
Residents practice Aqua Pi-Yo- Chi™ in the warm-water (95°F) pool at the Kimble Fitness Center once a week. The aquatics class movements are performed smoothly and quietly, becoming almost a moving meditation. Two land-based balance classes are also held during the week that focus on muscular endurance, postural correction, flexibility and weight shifting.
"The only way to improve balance is to challenge it," says John Hanrahan, Kimble Fitness Center coordinator. "Balance classes in the water are especially effective because water is more dense and offers more resistance to movement than land exercise. Seniors are also willing to try more challenging movements as the fear of falling on a hard surface is eliminated."
What makes balance classes so popular? In addition to feeling better when feeling strong, older adults have learned that nothing good comes from a fall. Dr. Peter Jaggard, vice president of medical affairs at Presbyterian Homes, says falls can cause injuries, hospitalization and limited mobility. Lengthy recoveries from fractures that require bed rest put seniors at risk for further de-conditioning, developing pneumonia and blood clots. However, Dr. Jaggard continued, "Research shows that the combined benefits of aerobics, balance training and weight resistance have a positive effect on strength, flexibility and balance, helping older adults to avoid falls."
###
ABOUT WESTMINSTER PLACE
Westminster Place is a Presbyterian Homes continuing care retirement community in Evanston, IL, that offers independent living in apartments, cottages and townhouses; assisted living, rehabilitative services, health care and memory care for more than 500 residents on a 40-acre campus.
ABOUT PRESBYTERIAN HOMES
Founded in 1904, Presbyterian Homes is a not-for-profit, faith-based organization with a national reputation for creating extraordinary retirement communities. Presbyterian Homes serves older adults through its residential and health care programs on campuses in Evanston, Lake Forest, Arlington Heights and Chicago, Illinois. The organization is accredited by CARF-CCAC (Commission on Accreditation of Rehabilitation Facilities -Continuing Care Accreditation Commission), the nation's only accrediting body for retirement communities. To find out more about Presbyterian Homes, go to http://www.presbyterianhomes.org.