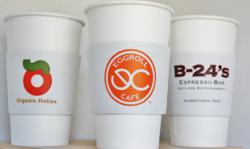 We are especially excited to introduce the new Monin Smoothie line
Atlanta, GA (PRWEB) February 14, 2013
Your Brand Café, an Atlanta-based wholesale distributor, announces the addition of four new specialty coffee and tea lines to their already extensive range of products.
Known for their desire to assist independent coffee houses and restaurants compete with their larger counterparts, Your Brand Cafe broke into the industry in 2006, offering small minimums and a quick turn around on custom printed cups and sleeves. With the addition of Monin gourmet syrups and sauces, Ghirardelli Chocolate sauces, Big Train blended drinks and chai mixes, and Two Leaves Tea they have expanded beyond small volume custom printing to offer the specialty coffee industry an easy one stop shop for all of their everyday necessities.
Your Brand Café is dedicated to staying on the cutting edge of developments in both the coffee and printing industries and is always looking for innovative products and techniques. "We are especially excited to introduce the new Monin Smoothie line," says Owner and President Craig Warner, "This is not only a new product for Your Brand Café, but a new product to the industry as a whole." By combining top of the line syrups, sauces, teas, and drink mixes with high quality, small volume custom printed cups and sleeves, Your Brand Café is looking to be the ultimate coffee shop supplier.
For more information on Your Brand Café or any of the items they offer, visit their website at http://www.yourbrandcafe.com or call the customer service line at 866.566.0390.
This release was submitted by Click Ready Marketing an interactive SEO Company