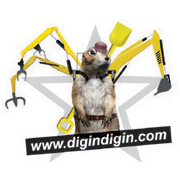 Lachine, QC (PRWEB) February 15, 2013
DiginDigin just announced the release of an online platform that allows freelance graphic design artists to connect with other graphic design artists as well as build a solid base of clientele. By engaging on the online platform, artists can glean from more experienced artists as well as share their own ideas. Graphic design artists have the opportunity to collaborate with other professionals of the same trade. The flip side, and perhaps the most interesting, is that the site is set up as a contest. Graphic design artists complete client produced projects by designing items like logos, T-shirts or web pages and consumers choose which one they like best. The artist gets paid based on this acceptance.
Dora Wang set up DiginDigin to benefit both the customer and the artist. The customer will see numerous designs that meet their specifications and choose from among them; artists build a client base while developing an online portfolio. They also have the opportunity through the use of an online community to get input from others of the same trade.
The official website can be viewed at http://www.digindigin.com/graphic-design-jobs Visitors to the site can view the wide variety of logos and other design projects which have been previously designed. Graphic design artists can sign up to join the community and showcase their work through the website and online portfolio that is provided.
About Dora Wang
Dora Wang discovered a way to make everyone happy. She developed a system through which freelance design artists have the opportunity to create specialized designs to meet the needs of different individuals, make money and have fun. Ms. Wang set it up on a website so that the designers compete by doing their best work in designing for various projects and the individuals needing the order choose the one they like best. This fun competition helps the designers keep their edge and provides a great way for individuals to see many different designs to choose from. Ms. Wang connects businesses with designers who can collaborate and learn from one another. http://www.digindigin.com/designers/new connects designers and businesses in a way that satisfies both sets of needs.