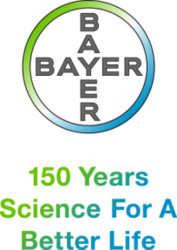 "With all-new calculator tools on the site, growers can instantly forecast potential yields and plan their budgets while considering our innovative product line. And they'll have instant access to our latest financing and incentive programs. "
Research Triangle Park, NC. (PRWEB) February 13, 2013
After extensive conversations with and feedback from growers, Bayer CropScience recently updated its Innovation Plus platform to provide program information, rebate and yield calculators, an education center and redemption catalog. The platform is available at http://www.InnovationPlusProgram.com.
The new MyRebate calculator determines the value of the farmer's rebate, based on the purchases he inputs, while the MyYield calculator helps calculate a farmer's potential return on investment based on various crop input scenarios, such as commodity price, application rates and product cost. These tools help take the guesswork out of some financial calculations, leaving farmers with more time to dedicate to other functions vital to their farming operations.
"What we keep hearing from farmers is the need for more technology to assist in planning the growing season. The new Innovation Plus site does just that," David Hollinrake, Bayer CropScience vice president of agricultural commercial operations (ACO) marketing, explained. "With all-new calculator tools on the site, growers can instantly forecast potential yields and plan their budgets while considering our innovative product line. And they'll have instant access to our latest financing and incentive programs. "
Also recently introduced to the platform is the Innovation Center, a hub of educational information about determining crop varieties, reducing yield loss, correcting problems and evaluating yield performance. What's more is that once a grower completes his profile, the site customizes to specific needs, such as crop input programs that might fit his or her operation.
The new Innovation Plus platform is an opportunity for growers to access all of these tools from a single entry point. It also is just one example of the Bayer CropScience commitment to helping growers identify unique ideas and develop innovative answers to questions and challenges related to their operations.
"The updated program and new tools are the results of listening to growers and an assessment of the earlier Innovation Plus program. We developed this new platform to empower our customers with real time solutions designed to increase their ROI," Rodney Schmidt, Bayer CropScience Midwest marketing manager, added. "Innovation Plus is a value-driven experience providing farmers with tools to make real-time business decisions and a personalized window to their farms' future."
What's more, every Innovation Plus member can earn cash-equivalent rewards for participating products within the Innovation Plus Program. To enroll, growers register at http://www.InnovationPlusProgram.com. And there is no need for growers to submit paperwork. Proofs of purchase are submitted electronically to Data Dimensions™ by participating retailers.
For additonal information about Innovation Plus, please visit http://www.InnovationPlusProgram.com. To learn more about Bayer CropScience, visit bayercropscience.us or contact your local sales representative for product information.
About Bayer CropScience
Bayer is a global enterprise with core competencies in the fields of health care, agriculture and high-tech materials. Bayer CropScience, the subgroup of Bayer AG responsible for the agricultural business, has annual sales of EUR 7.255 billion (2011) and is one of the world's leading innovative crop science companies in the areas of seeds, crop protection and non-agricultural pest control. The company offers an outstanding range of products including high value seeds, innovative crop protection solutions based on chemical and biological modes of action as well as an extensive service backup for modern, sustainable agriculture. In the area of non-agricultural applications, Bayer CropScience has a broad portfolio of products and services to control pests from home and garden to forestry applications. The company has a global workforce of 21,000 and is represented in more than 120 countries. This and further news is available at: press.bayercropscience.com.
Contact:
Bayer CropScience Media Hotline - 1-877-879-6162
Find more information at http://www.bayercropscience.us.
USA-BCS-2012-0038
Forward-Looking Statements
This release may contain forward-looking statements based on current assumptions and forecasts made by Bayer Group or subgroup management. Various known and unknown risks, uncertainties and other factors could lead to material differences between the actual future results, financial situation, development or performance of the company and the estimates given here. These factors include those discussed in Bayer's public reports which are available on the Bayer website at bayer.com. The company assumes no liability whatsoever to update these forward-looking statements or to conform them to future events or developments.