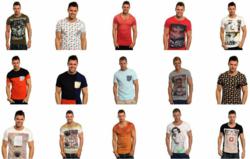 Due to the massive increase in demand for t-shirts over the last year we wanted to offer our customers something other men's clothing suppliers didn't. We wanted to give them constant updated stock of products
Leeds, West Yorkshire (PRWEB UK) 13 February 2013
During the winter months t-shirt sales are replaced by the increasing demand for warm clothes like designer jumpers and winter coats, but according to stock reports and revenue printed designer t-shirts have taken the winter by storm this year.
"We first noticed that the sale of t-shirts had not decreased despite the increase in warmer winter clothing. When we investigated further we were astonished to see that the sales were up on last year around the same time" advises Reem Clothing Manager.
The popularity of t-shirts over the last few years has succeeded all expectations. Mens retro t-shirts are not just replicas of the vintage collections but they are collectibles in their own right. Printed t-shirts by designers such as: Original Geek; Religion; Pearly King and many more attract buyers from all walks of life including pop culture enthusiasts.
Reem Clothing has recently increased their stock of printed t-shirts and designer labels to keep up with the increasing demand.
"Due to the massive increase in demand for t-shirts over the last year we wanted to offer our customers something other men's clothing suppliers didn't. We wanted to give them constant updated stock of products" added Reem Clothing Marketing Manager.
New brands include classic designs from Reem Basics; controversial prints by Original Geek; slogan play by Jack & Jones and many more.
ABOUT REEM CLOTHING
Reem Clothing is a designer mens clothing stockist. Selling the most fashionable designer labels at http://www.reemclothing.com. Reem Clothing allows customers to enjoy the convenience and cost savings associated with online shopping without compromising the high levels of service and security you would expect from high street stores.
The company was established in 2003 and has been growing ever since. Reem Clothing sells through its website, http://www.reemclothing.com and can boast of a personal shopping service that offers friendly and professional advice to ensure that customers get the most out of their clothing shopping experience.
Reem Clothing sells the UK's widest variety of mens designer clothing. They have a selection of up to the minute mens accessories, designer footwear, mens jeans, shirts, t-shirts and shorts. They also stock their own branded mens clothing "Reem Basics".
Reem Clothing prides itself on stocking the largest range of the coolest items of mens clothing. They combine the most fashionable designer labels in the UK with choice imports from Europe. Reem Clothing have all the top brands in mens fashion including, Original Geek, Farah Vintage, Religion, Cuckoo's Nest, Voi Jeans and many more.
Customer service is still a top priority with Reem Clothing, making the shopping online experience completely hassle free. They are more than happy to receive feedback on how they can improve the mens clothing collections or any aspect of the ordering process.