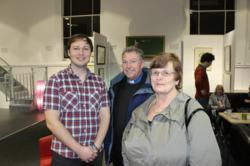 There are few examples of this approach to youth club management in the UK but it has proved extremely successful in the US
Taunton, Somerset (PRWEB UK) 13 February 2013
Supported by Somerset County Council and the ASDA Foundation, Cafe Encore is based on a model popular in the US where young people are given the responsibility to run the cafe with the assistance of volunteers involved in the project.
Located at the Creative Innovation Centre (CICCIC) on Paul Street, the cafe is the first of its kind in Taunton and will remain open later than other youth clubs to provide a safe environment for young people to meet after other venues have closed.
In preparation for the project the Taunton Deane Community Safety team carried out a consultation with resident young people. A spokesperson for the team stated that "they did not necessarily want an activity focussed club but somewhere they could meet."
Adam Fouracre, CEO and founder of SAV explained: "Current research shows that a large percentage of underage drinking can be accredited to a lack of stimulus and a sense of nothing else to do or anywhere to go. The cafe therefore is designed to meet those needs by providing a safe and warm place to socialise and hang out in for a longer period over the weekend evenings.
"Equally, handing over a lot of the responsibility to those it caters for, will encourage maturity and the feeling of being treated with respect. There are few examples of this approach to youth club management in the UK but it has proved extremely successful in the US."
Gail McCarthy from Somerset County Youth and Community Service stated: "We are delighted to see this project come to life it is exactly the kind of community initiative that we want to enable and support. I know that Stand Against Violence (SAV) and all the volunteers with young people have worked extremely hard to bring the youth café from vision to reality. We will continue to do what we can to offer guidance and support when needed. We wish 'Encore' every success and know that it will be well supported by young people throughout the Taunton area."
Jane Warmington, Executive Councillor for Community Leadership at Taunton Deane Borough Council, said: "We were pleased to able to help with the start up costs of the youth cafe through our Youth Initiative Fund last year and look forward to seeing it open later this week."
The cafe also secured funding through the Asda Foundation. Adam was introduced to the supermarket giant by a campaign called United Futures, which aims to make it easier for youth organisations and businesses to work together.
Julie Ward, Asda Foundation Manager, commented: "When I saw Adam's application for funding I was really impressed with what he has achieved so far and was excited for Adam's new venture. When the trustees agreed to support the application for the youth cafe I was delighted and I speak for all the trustees in wishing Adam every success. We look forward to a visit after it is up and running."
Adam stated: "We are delighted to have received such fantastic support and look forward to working together with our partners to make this project a sustainable success."
Cafe Encore is open to young people aged 14-19 from 7.30pm until 10pm on the first and last Friday of each month and the second and third monthly Saturday.