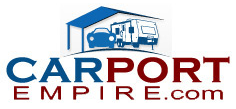 Highest Quality,
Lowest Prices
Live Oak, Florida (PRWEB) February 19, 2013
2013 means lots of changes for Carport Empire and lots of great opportunities for those looking to build a new carport, steel covering or garage. The professional team at Carport Empire is committed to always providing the newest trends, state of the art equipment and best service available. This includes staying on top of the next big thing in the carport and steel building industry and providing the utmost in customer satisfaction.
While the New Year has brought many changes to Carport Empire, one thing that will never change is the dedication to customer support and the knowledgeable team who is always standing by to answer any questions about steel carports or garages.
What is Carport Empire
Carport Empire is the premier online warehouse for carport and steel building needs. The comprehensive online selection at Carportempire.com includes all the necessary equipment for metal and steel carports, metal garages, steel coverings, RV coverings and more.
Carport Empire is dedicated to providing the leading materials in the carport and steel building industry at competitive prices.
2013 Changes at Carport Empire
Carport Empire now offers 40 year warranties on metal carport materials with color matched screws. This is just one more step in ensuring our customers that we are dedicated to helping them create a carport or steel building that is built to last with durable and reliable materials. In an effort to help every customer create their ideal carport, garage or other steel building, Carport Empire is now also offering zero percent down-payment on our financing options with simple terms.
The New Year also means a new inventory of state of the art materials and products for carport and steel building needs. This includes more coloring options available at absolutely no extra cost. Carport Empire has expanded their collection of RV covers and now has more and stronger roof options for the protection of standard vehicles, RVs and other equipment. As always, the materials featured at Carport Empire are highly durable and are designed to withstand the elements while protecting equipment and machinery, large and small.
As always, Carport Empire is regarded as number one in terms of customer service, and remains dedicated to providing the best care and support in the carport and steel building industry.
Coming Soon at Carport Empire
In April of 2013, Carport Empire will hold one of the largest amateur motocross contingency payout events in the country. This event will be held April 26,27 and 28 at the Reddick Race Track in Marion County, Florida. Carports and steel buildings will be available on display at this event and sales staff will be standing by to answer questions about carport and steel building needs.
At this event only, customers can save 10 percent on their order with our race day discount.
Learn more about the options in carports, steel buildings and garages by contacting the helpful professionals at Carport Empire:
Carportempire.com
1-800-985-7678