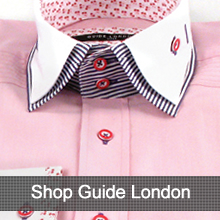 After the success of the last competition we decided it was a great way to keep interactive without customers having to make a purchase. This time we want customers to answer a simple question
Leeds, West Yorkshire (PRWEB UK) 13 February 2013
The newest competition of Reem Clothing is due to launch on February 15th after the great success of January's iPod giveaway. This competition is completely free to enter and is open to anybody. No purchase is required. This new competition is simple for anyone to enter, only asking name, gender, region, age and email address so they can be contacted if they are the winner of this fantastic prize.
Guide London shirts average a price of £60.00 per shirt and customers could win a whole week's supply. They are available in various designs and colours, with long and short sleeves.
"After the success of the last competition we decided it was a great way to keep interactive without customers having to make a purchase. This time we want customers to answer a simple question and they will be in for a chance to win a week's worth of Guide London shirts" advises the Marketing Manager.
For a chance to win visitors need to visit the competition page on the Reemclothing.com website and answer the simple question of: "How many colours do we stock of the Guide London Classic shirt?"
Reem Clothing can now also be reached via Twitter (@reemclothing) and also Facebook (/reemclothing) where customers can keep up to date with current offers, new fashion items and everything men need to be a fashion icon.
Terms & Conditions
No purchase or payment necessary to enter the competition. A purchase or payment will not affect or increase your chances of winning the competition.
ABOUT REEM CLOTHING
Reem Clothing is a designer mens clothing stockist. Selling the most fashionable designer labels at http://www.reemclothing.com. Reem Clothing allows customers to enjoy the convenience and cost savings associated with online shopping without compromising the high levels of service and security you would expect from high street stores.
The company was established in 2003 and has been growing ever since. Reem Clothing sells through its website, http://www.reemclothing.com and can boast of a personal shopping service that offers friendly and professional advice to ensure that customers get the most out of their clothing shopping experience.
Reem Clothing sells the UK's widest variety of mens designer clothing. They have a selection of up to the minute mens accessories, designer footwear, mens jeans, shirts, t-shirts and shorts. They also stock their own branded mens clothing "Reem Basics".
Reem Clothing prides itself on stocking the largest range of the coolest items of mens clothing. They combine the most fashionable designer labels in the UK with choice imports from Europe. Reem Clothing have all the top brands in mens fashion including, Original Geek, Farah Vintage, Religion, Cuckoo's Nest, Voi Jeans and many more.
Customer service is still a top priority with Reem Clothing, making the shopping online experience completely hassle free. They are more than happy to receive feedback on how they can improve the mens clothing collections or any aspect of the ordering process.