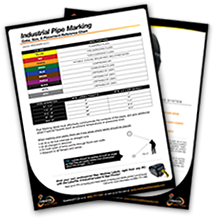 "The free color code chart was very informative about marking pipes properly and in compliance with ANSI and OSHA standards. It took all the guess work out of marking pipes and it made completing the job much quicker."
Lake Oswego, OR (PRWEB) February 20, 2013
Labeling pipes and valves in a commercial building, school or retail facility offers additional pipe marking challenges. In addition to meeting the requirements of ANSI and OSHA, there is a need to provide more specific identification of pipe contents and their directional flow. To address this need a standard has been developed that provides information as to what color of marking should be used for certain pipes and their contents. Labeltac.com is now offering a free pipe marking color code chart that will make pipe marking easy and will assure compliance to OSHA and ANSI regulations.
The pipe marking color code chart is invaluable when it comes to learning the proper method of marking pipes and valves and is critical information in an emergency situation. Safety is important in any facility environment and by marking pipes properly will ensure quick responses to a possible leak that could cause injury and even death. The guide will explain the positioning of the label on the pipes so they can be easily read. The guide will also explain what text is required on the label to effectively communicate the contents of the pipes and give additional detail of any special hazards, such as pressures or extreme temperatures. The guide offers ANSI/ASME current version for color scheme with six standard color combinations, based on the contents of the pipe.
A plant manager commented about the pipe marking color code chart, "The free color code chart was very informative about marking pipes properly and in compliance with ANSI and OSHA standards. It took all the guess work out of marking pipes and it made completing the job much quicker."
For more information about industrial color codes for marking pipes and valves, please visit http://www.labeltac.com/pipe-marking or call toll-free (866)777-1360 to speak with a professional representative.