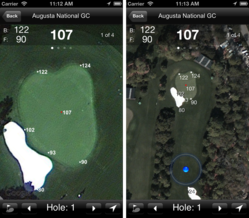 "We wanted to give golfers more choice for their course images." says Paul Goldstein founder of Goldstein Technologies LLC., "Now with this release they can choose which is best for them."
West Hartford, CT (PRWEB) February 27, 2013
The SkyDroid - Golf GPS rangefinder app puts more control into the hands of iPhone users with a recent update that will allow iPhone users the chance to choose which map interface to use for overhead images.
SkyDroid gives golfers a number of ways to get their gps distances to points on the green, hazards and more. While some users prefer the numbers only screen, many others want to see the big picture with the overhead images.
The Satellite view screen ("zoom" button in the app), has been there since the beginning (Android - Jan 2010 launch, iPhone - Jan 2011 launch), it lets golfers see a satellite image of the entire golf course, shows a zoomed in view of the green, and gives golfers their distance to any point with a finger press.
The app has always shown images provided by Google in that screen, but iOS6 replaced Google's maps with a different provider.
With the 1.9.1 update released on January 24, 2013, golfers on iOS 6 can now pick either the built in Apple Maps or Google Maps for the zoom screen in SkyDroid on iPhone and iPad 3G models (the Android version of the app will only offer the Google Imagery).
For more information about the SkyDroid app, visit http://www.skydroid.net or check them out on Facebook or Google+. SkyDroid can be purchased from iTunes and the Google Play Store.