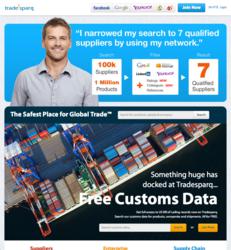 We realized that mutual trust between trade partners can only be built through a combination of social verification and 3rd party data.
San Diego (PRWEB) February 14, 2013
Tradesparq has become the first B2B website to combine US Customs records with online social verification tools to make vetting potential trade partners from China and around the world faster and safer.
By merging US shipping data into search results and allowing users to filter those results by their online network, importers on Tradesparq are able to not only view a supplier's trade history they can also quickly get references and see ratings on the supplier from their own trusted network.
This combination of data driven and personal verification is unavailable elsewhere on the web and makes Tradesparq now the safest site on the internet for global trade.
"We're really excited to launch US Customs data into our social search and verification platform," said Brian Hager, founder of Tradesparq. "As part of our mission to become the safest place for global trade, we realized that mutual trust between trade partners can only be built through a combination of social verification and 3rd party data. It's necessary to use both sources for an importer to truly feel confident they are engaging with a verified supplier."
Hager added that typical B2B trade directories like Alibaba and Global Sources don't offer customs data while sites focused mainly on customs data alone, such as Panjiva or Import Genius, charge for the material, and don't offer social or ecommerce elements.
"We feel that customs data should be free to our users," Hager said. "While this approach may be unprecedented on the Internet, we are confident that giving a broad base of users access to such valuable data along with the other tools on our site will benefit suppliers, importers and service providers throughout the supply chain by adding transparency and reducing risk."
While this data does subject Tradesparq's supplier network to increased scrutiny from prospective importers, it also benefits the suppliers by bringing them more qualified inquiries from buyers, who have used the data and their relationships to initiate the verification process. In addition, suppliers now have the ability to vet overseas buyers, which allows them to offer more favorable payment terms, including credit.
Supplier verification, especially in China – where the manufacturing market was valued at nearly $1.9 trillion last year, representing nearly 20% of the global total – continues to be a problem plaguing large and small importers alike. By combining traditional product and category directory architecture with cutting-edge social networking and relationship tools similar to those found on LinkedIn, Tradesparq is providing a new avenue for social verification, providing transparency not found with traditional supplier directories based on paid advertising.
About Tradesparq
Tradesparq.com utilizes a proprietary, Web 2.0 social networking technology to match volume buyers and manufacturers around the world. Tradesparq is the first B2B website to combine social networking tools with a product directory for global trade, allowing customized search results for each buyer with products ordered by relationship, and providing a more proactive marketing service for suppliers. Its social search-based network allows suppliers and buyers to connect with each other, import contacts, share ratings, view product details, check references, and send real-time automatic product and service updates. In 2012, the Tradesparq platform sent 3.4 million sales leads from procurement professionals to suppliers worldwide. For more information, visit http://www.tradesparq.com
Contact:
Tradesparq
Stacy Jiang
858-207-4818
info@tradesparq.com