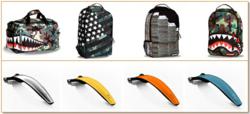 We all know how important male grooming is nowadays and we wanted to give our customers access to the most exclusive and appealing razors available on the market
Leeds, West Yorkshire (PRWEB UK) 13 February 2013
Reem Clothing is very proud of the addition of two new products to their carefully selected collection of the best men's products on the market. Bolin Webb design razor handles that demonstrate performance and elegance in one creative product. Sprayground backpacks are designed for people on the go and need to pack their whole life in to a backpack that is durable, comfortable and eye-catching.
Why Bolin Webb
Bolin Webb has taken the concept of an everyday razor and added performance and elegance to bring a creative product to the world of men's grooming; a subject that is growing. The R1 is their first result of innovative design. This razor handle demonstrates a combined design of curve, balance, energy and movement. The R1 razor handle comes in a variety of appealing colours and are made from ABS plastic encased in metal with an automotive finish. Best of all it fits with a Gillete Mach 3 Razor Blade making it affordable as well.
"We all know how important male grooming is nowadays and we wanted to give our customers access to the most exclusive and appealing razors available on the market and so we chose Bolin Webb" advises Reem Clothing Merchandising Manager.
Why Sprayground
Reem Clothing chose Sprayground as it is a brand that lets its wearers express themselves. They combine sleek design with hidden features and pockets to store your life. There are pockets for laptop, tablet, mouse, adapter, notebook, mp3 holder, pen pouch and even a specifically designed velour pouch for sunglasses. Sprayground backpacks have been designed to make a bold statement and have revolutionised the bag industry.
"Men today carry everything with them and we wanted to supply them with the ultimate backpack and so we found Sprayground backpacks. This backpack is suitable for day-to-day work or uni use as well as travellers."
ABOUT REEM CLOTHING
Reem Clothing is a designer mens clothing stockist. Selling the most fashionable designer labels at http://www.reemclothing.com. Reem Clothing allows customers to enjoy the convenience and cost savings associated with online shopping without compromising the high levels of service and security you would expect from high street stores.
The company was established in 2003 and has been growing ever since. Reem Clothing sells through its website, http://www.reemclothing.com and can boast of a personal shopping service that offers friendly and professional advice to ensure that customers get the most out of their clothing shopping experience.
Reem Clothing sells the UK's widest variety of mens designer clothing. They have a selection of up to the minute mens accessories, designer footwear, mens jeans, shirts, t-shirts and shorts. They also stock their own branded mens clothing "Reem Basics".
Reem Clothing prides itself on stocking the largest range of the coolest items of mens clothing. They combine the most fashionable designer labels in the UK with choice imports from Europe. Reem Clothing have all the top brands in mens fashion including, Original Geek, Farah Vintage, Religion, Cuckoo's Nest, Voi Jeans and many more.
Customer service is still a top priority with Reem Clothing, making the shopping online experience completely hassle free. They are more than happy to receive feedback on how they can improve the mens clothing collections or any aspect of the ordering process.