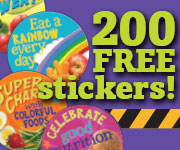 Owatonna, MN (PRWEB) February 14, 2013
This March marks the 40th anniversary of National Nutrition Month®. Learning ZoneXpress(LZX) has everything educators need to celebrate and encourage healthy habits this month and all year long. Visit the LZX website to view the newest posters, handouts, activity books, and other educational resources for Nutrition Month and Breakfast Week.
To receive a complimentary roll of Celebrate Good Nutrition Stickers, use coupon code MNM13 at checkout. Enter the code, and the stickers will automatically be added to the online shopping cart! Offer expires March 31st, 2013.
Visit the Learning ZoneXpress website to place an order today.
About Learning ZoneXpress
Learning ZoneXpress, based in Owatonna, Minn., is a leading source of award-winning nutrition education tools. Its mission is to help improve the health and vitality of children by providing relevant, creative and affordable learning tools about healthy behaviors and nutrition. Learning ZoneXpress offers a wide variety of educational products including posters, handouts, videos, games and lesson plans. For more information about Learning ZoneXpress health fair products, visit Learning ZoneXpress' website or call Toni Meyer at 888-455-7003.