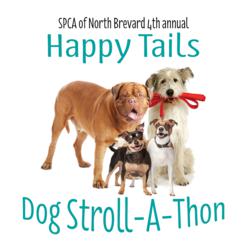 Protecting and Providing a Voice to the Homeless Pets of Brevard County.
Titusville, Florida (PRWEB) February 12, 2013
The SPCA of North Brevard is seeking sponsors for its fourth annual "Happy Tails Dog Stroll-A-Thon," which drew a crowd of approximately 500 people last year.
The Stroll-A-thon will be Saturday, April 6, 2013 at Sand Point Park in Titusville. Event participants, which consist of both individuals and "packs" raise money through pledges prior to the Stroll-A-Thon. The Stroll is a leisurely walk around the beautiful water at Sand Point Park. After the stroll, there are activities for the entire family, including the very popular Doggie Fun Zone, games and prizes, a vendor village, food trucks and live entertainment.
Individual sponsorships begin at $150 and corporate sponsorships begin at $1000. All proceeds go to towards the care of the homeless animals in the care of the SPCA. To become an event sponsor visit spcanorthbrevard.com and click on the Happy Tails Dog Stroll-A-Thon link or call Teri Scott at 321-267-8221 extension 246 by March 15, 2013.
###
About SPCA of North Brevard
The SPCA of North Brevard, Inc. is a private, non-profit organization with the mission of "protecting and providing a voice to the homeless animals of Brevard County." Founded in 1979 in Titusville, Florida, the SPCA is the largest private no-kill animal rescue group in Brevard, finding homes for more than 1,300 animals a year. It is the only adoption facility with free-roaming cat rooms in the County, allowing adopters to interact with cats in a more home-like setting. The SPCA of North Brevard Clinic also provides reduced-price vaccines to the public and has performed more than 50,000 low-cost spay/neuter surgeries since 1999.