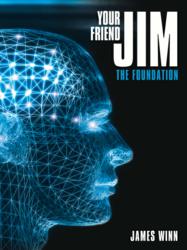 The book helps people look at themselves in different ways and transition from where they are to where they want to be
SAN BERNARDINO, California (PRWEB) February 14, 2013
One of the top U.S. trainers of Army intelligence analysts is taking his advice to the civilian level.
Military intelligence expert James Winn talks about how to improve lives and achieve success through realizing the power of subconscious talents and strengths in his new self-help book, Your Friend Jim.
A leading Army intelligence veteran and certified hypnotherapist, Winn became interested in the deep resources of the hidden mind after years of service in the U.S. Army spent training analysts on essential survival skills, including how to think and adapt in any environment.
Winn discovered his passion for helping others tap into their minds and teaching what he calls "universal laws" after years of firsthand experience learning how the human brain works. As a result, the book details how to tap resources of a subconscious mind, how to apply natural laws to one's advantage, gives simple steps to financial wealth and explains how to awaken to one's reality.
"I represent that inner voice we all have," Winn says. "In turn, the book helps people look at themselves in different ways so they can transition from where they are to where they want to be."
For more information, visit http://www.yourfriendjim.com.
Your Friend Jim—The Foundation
James Winn
ISBN: 978-1-4525-6113
Approx: 152 pages
Retail Price: $30.99 (hc), $12.99 (sc)
E-book price: $4.99
Available at Amazon, Barnes & Noble, Balboa Press
About the author
James Winn served as a top trainer of intelligence analysts in the U.S. Army for 11 years. Now a certified hypnotherapist, author and speaker, Winn is a member of Veterans of Foreign Wars (VFW), International Association of Counselors and Therapists (IACT) and the American Hypnosis Association (AHA). Winn lives in the high desert of Southern California with his wife, Mihaela. His goal is to serve others as they discover and utilize their talents to meet challenges and solve problems.
###