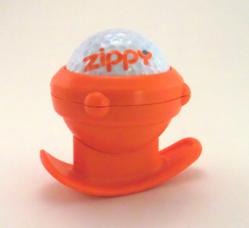 This is an excellent little device. Easy to carry because of its size, and simple to use. But most of all, very effective! Would highly recommend it to anyone who wants or needs a quick efficient tool to help their muscles recover after strenuous activity
Phoenix, AZ (PRWEB) February 13, 2013
Zing Partners LLC announces the signing of an agreement with Dixon Golf, manufacturer of high performance eco-friendly golf balls, to partner with Dixon as an official sponsor of the 2013 Dixon Challenge charity golf program.
Dixon Golf, a Tempe, AZ based company, is the world's only manufacturer of high performance, eco-friendly family of golf balls. Born from a desire to limit its impact on the environment Dixon also offers a golf ball recycling program through its retail locations that gives golfer's credit for returning their old golf balls. In addition, Dixon packaging is made from 100% recycled material. From core to cover, from packaging to production, Dixon Golf is setting a new standard in environmental consciousness. Dixon Earth golf balls are distributed internationally and conform to USGA standards, with a PGA Tour Partner's 92% approval rating. For more information about Dixon Golf, please visit http://www.dixongolf.com.
Zippy supports the Dixon Challenge philanthropic mission which helps raise money for charity. Dixon created the Challenge, a fun Par-3 game, which helps non-profits increase revenue at charity golf tournaments. The Dixon Challenge has been held at tournaments benefiting such well known causes as the Susan G. Komen Foundation, the American Cancer Society, the March of Dimes and many others, including more than 1500 charity tournaments throughout 2012. Dixon Challenge players will be able to sample the Zippy RBT and receive discounts at the Zippy RBT web store, http://www.zippymassage.com.
Zing Partners LLC, based in Phoenix, AZ , manufactures and distributes the innovative Zippy Rolling Ball Therapy line for Therapy, Sport, and Life. Durable, easy to use Zippy devices are the choice of personal users and professional therapists to treat sore muscles and joints, pressure point release spots, knots, strains and sprains.
Zippy RBT devices come in three models: the Basic, the Rocker Handle, and the T-Handle. Zippy devices are compact and convenient to carry and use, readily accessible in golf bag, purse, pocket, glove box, nightstand, and sports bag for immediate use. Please visit http://www.zippymassage.com for more information.
Zippy Rolling Ball Therapy massage devices are available online at http://www.zippymassage.com and on Amazon.
View Video #1 on the Zippy RBT YouTube Channel. http://www.youtube.com/watch?v=xjz02z5xyiYVisit Zippy RBT – Rolling Ball Therapy on Facebook and "Like". Follow @ZippyRBT on Twitter, https://twitter.com/ZippyRBT.