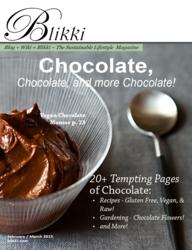 An extra reason to rejoice for those who have dietary restrictions (or who have sweethearts who do): many of the recipes Blikki features are vegan, raw, gluten free, or all of the above.
Santa Cruz, CA (PRWEB) February 13, 2013
Blikki is an online magazine featuring beautiful, healthful, and deliciously different recipes from accomplished chefs around the world. Their February/March chocolate issue is a timely tribute with Valentine's Day just around the corner. From appetizer to entree to a plethora of tantalizing desserts, the recipes span an entire meal's worth (and then some) of seriously sexy chocolate temptations, perfect for entertaining that special someone.
Here are a few sneak previews:

For a salty-sweet beginning, the vegan Caponata di melazane al cioccolato will tease any lover's taste buds. (In English, that's 'Sicilian Eggplant Appetizer with Chocolate,' but saying it in Italian, con fuoco, will enhance the mood of the evening.) Eggplant and chocolate may seem like a strange combination, but never doubt Italy when it comes to food.
Heat up the evening with the main course: Bean Chili with Walnuts and…of course…Chocolate! This recipe offers to satisfy three cravings in one fell swoop, as it calls for red wine and coffee, too – along with as much chopped chili as one dares to include.
Finally, the climax of any Valentine's meal – dessert. The editors of Blikki have outdone themselves in this department, daring readers not to drool as they page through one decadent delicacy after another, from the fluffy Raw Banana Coconut Macadamia Dream Pie (with a sweet layer of chocolate filling, of course,) to the euphorically rich Vegan Raspberry Belgian Truffles.
These foods would satisfy anyone's craving for chocolate adventure, but for those who have dietary restrictions (or have sweethearts who do), they offer an extra reason to rejoice. Many of the recipes Blikki features are vegan, raw, gluten free, or all of the above.
Short of dipping one's entire body in the pleasure-inducing food, Blikki's Chocolate Issue is the closest thing this year to the Ultimate Chocolate Experience.
Read Blikki's February/March 2013 issue – "Chocolate, Chocolate, and More Chocolate" – at Blikki.com