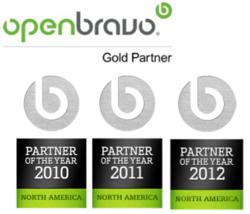 2012 has been another great year for TDS and Openbravo...
-- Marco de Vries, Openbravo CEO
Westborough, Massachusetts (PRWEB) February 14, 2013
Transitional Data Services (TDS) has been recognized by Openbravo as "Partner of the Year" for the third consecutive year. This award is based on the continued success TDS has demonstrated in deploying and supporting Openbravo Agile ERP across North America.
Marco de Vries, Openbravo CEO commented: "2012 has been another great year for TDS and Openbravo as demonstrated by continued success in larger enterprise and deeply embedded application deployments. We look forward to building on this partnership in 2013 as we collaborate with TDS to extend our combined functionality, customer enablement and markets served."
Openbravo is a web based, open source ERP package well recognized for ease of use, functional footprint and ease of integration with other systems in the enterprise. Openbravo has been repeatedly recognized as Inforworld's top pick for ERP in their annual listing of Best of Open Source Software (BOSSIE) since 2007.
"TDS is pleased to finish another strong year in delivering value to our customers using the Openbravo platform," said Eric Kraieski, Vice President of Enterprise Applications at TDS. "In 2013, we expect Openbravo to continue its adoption as an all-inclusive system from small to medium businesses while extending its value as a critical building block for larger, more complex enterprise deployments."
In addition to this award, TDS has been an Openbravo Gold Partner since 2008 and has developed many Openbravo add-ons, integrations and customizations for sales and distribution, manufacturing, warehouse, ecommerce and service deployments. TDS offers a full suite of consulting, deployment and operational support services to help companies evaluate and deploy Openbravo ERP and other open source enterprise applications.
About TDS
The TDS Enterprise Applications group provides consulting, deployment and operational services to help companies improve efficiency in sales & distribution, manufacturing, and B2B service industries. Our typical client size ranges from $50M to over $1B in annual revenues.
TDS helps these companies improve operations by leveraging agile, iterative approaches to obtain real business value fast. We specialize in flexible enterprise software including Openbravo ERP, Magento eCommerce, Sugar CRM, Pentaho BI and others. TDS integrates these systems with legacy environments where appropriate to avoid the disruption and chaos typical of forklift type upgrades.
TDS has been recognized by CIO.com for our early leadership in open source ERP. TDS has been an Openbravo Gold partner since 2008, and has been recognized as "Partner of the Year" every year since 2010.
For more information visit: http://www.transitionaldata.com.
About Openbravo
Openbravo is the leading provider of browser-based open source business applications for the cloud, with more than 6,000 organizations in 40 countries relying on Openbravo software every day. Leveraging our open source projects, we develop Openbravo Professional Edition, a comprehensive horizontal ERP solution for mid-sized companies, and Openbravo for Retail, a multi-channel retail management solution with integrated POS for mid-sized retailers. We are proud to distribute both solutions exclusively through our channel of global partners.
The company's commercial open source business model eliminates large up front software fees, providing subscription-based support, services, and product enhancements that keep mid-sized companies in control of their mission critical application software. All Openbravo software is available in the cloud, on demand, or on premise, with full freedom to migrate across deployment options at any time. An expanding range of over 400 free and premium Openbravo solutions and extensions is available "in app" through the company's central repository, enabling a unique, modular "assemble to fit" capability that provides best in class adaptability while preserving upgradability.
Openbravo is venture-backed, with offices in the U.S., Spain, and India.
Transitional Data Systems and the TDS logo are trademarks of Transitional Data Services, Inc. All other trademarks are the property of their respective holders.
Press Contact
Andrew Ostrom
Transitional Data Services
1700 West Park Drive
Westborough, MA 01581
press(at)transitionaldata(dot)com
Ph: +1.508.625.3035
###