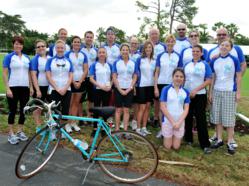 Laurie Elliot, a member of the Waterfront Properties River Team, heard about the Research Ride from a vendor.
Jupiter, Fla. (PRWEB) February 13, 2013
John Gepp, Courtney Olander and Isabel Stephenson rounded out the top three Waterfront Properties and Club Communities cyclists in the PGA National Women's Cancer Awareness Day Research Ride, which took place Feb. 9, 2013.
The Research Ride comprised a 20-mile, two-wheel adventure through scenic northern Palm Beach County and served as the newest addition to "Get Fit for Scripps Day!". Proceeds from the Research Ride, as well as from PGA National Women's Cancer Awareness Day's six days of activities, benefit cancer-research programs at Scripps Florida.
Waterfront Properties' team of participants marked the largest of the day, with 18 official (and two unofficial) riders who gathered at 8 a.m. at the PGA National Health & Racquet Club donning their white-and-blue jerseys with the Waterfront Properties turtle logo. They made a good impression not only with the race organizers, but also with the general public.
Gina Pelcher, a sales specialist in Juno Beach and Jupiter, shared this story: "A couple that I've been showing property to had started to think that maybe this wasn't the right time for them to buy for a number of reasons -- down payment, in the process of adopting a baby, etc. I work out at the same gym as the wife. She was on her way to the gym on Sunday morning and was thinking about all this and had pretty much come to the conclusion that they should stop looking for now. But, just then, as she was waiting at a stop light, a group of bicycle riders went by wearing Waterfront Properties shirts. She decided it was a sign from above, and they are moving forward with their looking."
Other agents participating in the Research Ride were David Abernathy, Alison Archer, Beth Bourque, Natalya Daley, Laurie Elliott, Jerry Mitchell, Betsy Munson, Erik and Michelle Pariseleti (and daughters Abby and Anika), Matthew Steinhoff, Isabel Stephenson, Sarah Thomson and Karen Walsh, as well as their friends and family members. After departing from the PGA National Health & Racquet Club, they cruised north on Jog Road, past such signature communities as Mirasol and Old Palm Golf Club, turned east on Donald Ross Road toward A1A, past Evergrene, then headed north along the seagrape-tree-lined road in Juno Beach.
Laurie Elliot, a member of the Waterfront Properties River Team, heard about the Research Ride from a vendor. Elliott shared the information with Matthew Steinhoff, a Waterfront Properties staff member and avid bicyclist, and then with the rest of the company, and the response was overwhelming. Managing Partner Rob Thomson sponsored each rider's $250 fundraising requirement.
"We sent out an email invite and had a great response," she said. "A win-win for everyone. The foundation was so overwhelmed and thankful. It was great camaraderie for a great cause."
Scripps Florida is one of two campuses that make up The Scripps Research Institute and is on the grounds of Florida Atlantic University, adjacent to Abacoa. The other campus is in La Jolla, Calif. Funds will benefit fellowships for the nonprofit facility's Department of Cancer Biology.