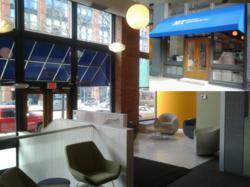 We are really excited about this building, the location, and the advanced technology that we have on exhibit...
Cleveland, Ohio (PRWEB) February 19, 2013
Ohio based MT Business Technologies, Inc. is opening an innovative technology Sales Portal in the Warehouse District of Downtown Cleveland, complementing the Operations Center in Avon, Ohio recently opened in November 2012. The new facility is expected to be fully operational next month.
Company executives expect these facilities to play a key role in expanding upon the double digit revenue growth MT Business Technologies has realized in 2012. The downtown office establishes a greater presence in the North Eastern Region of Ohio and draws new clients to widen the customer base. Additionally, the operations center enhances MT's industry leading service performance and logistics abilities by utilizing proprietary tablet based technician deployment technology to service customer's needs.
The contemporary atmosphere of the Cleveland office showcases the company's product and service offerings with an extensive portal able to mirror the client's business and technology environments. The setting creates a "hands on" venue to demonstrate the high performance systems and solutions that MT Business Technologies is recognized for across the industry.
The facility provides an ideal environment for hosting seminars, educational sessions, and other events; enabling businesses to learn about advancements in technology as well as related technical issues in an interactive and inviting atmosphere.
Mark Oswald, General Manager of the North Eastern Region, expresses his enthusiasm for the new facility. "We are really excited about this building, the location, and the advanced technology that we have on exhibit that maximizes customer's business performance. The neighborhood has made us feel very welcome and we expect good things to happen here. It is a fantastic environment for our business and associates to flourish in," he commented.
Please visit MT Business Technologies' Event Calendar for a complete listing of upcoming events as they become scheduled.
____________________________________________________________________________________
Originally established in Mansfield, Ohio in 1918 as Mansfield Typewriter, the focus of the company has always been to anticipate customer's needs as they grow and change. Today MT Business Technologies Inc. is a privately held third generation Ohio office solutions firm with multiple locations across the state.
MT Business Technologies provides innovative and proactive technology solutions to aid in the success of small to medium sized businesses. One size does not fit all and scalable solutions are designed to fit each budget. MT Business Technologies prides itself on being an innovative company with an exceptional ability to understand the business needs of their clients. Find out more about MT Business Technologies.
MT Business Technologies is committed to environmental sustainability and to supporting the communities in which its employees work and live.