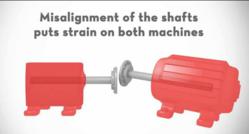 We've applied the knowledge from our training experiences to create useful video communications.
Richmond, Virginia (PRWEB) February 19, 2013
VibrAlign, Inc. has released a new video entitled "Concepts of Alignment Part One: The Basics". The video describes and depicts what happens when perfectly aligned, or "collinear" shafts move out of alignment, and the challenges of correcting the misalignment.
The video was based on ideas for visualizing alignment created by David Zdrojewski, CEO of VibrAlign. According to Zdrojewski, "One of my passions is training alignment. I'm on the road 40 weeks a year conducting training classes all over the United States. Training alignment has given me some insight into how mechanics think. We have applied the knowledge from our training experience to create useful and understandable video communications."
The video is available on VibrAlign's YouTube channel. Additional segments are planned and will be available soon.
VibrAlign has been providing shaft alignment expertise for 30 years to help America's industry keep its rotating equipment operating. This depth of experience and the company's commitment to give back are the basis for VibrAlign's "Realign America" campaign.
The company's expertise has also led to the development of a process for shaft alignment, which VibrAlign calls "Verti-Zontal". This new way to perform alignments can result in precision alignments being completed in record time.
VibrAlign started in 1983 as a vibration and alignment service organization and later became a distributor of equipment which, appropriately, equipped the VibrAlign team to better serve customers. VibrAlign is America's exclusive distributor of Fixturlaser® – the manufacturer of the only touch screen tool available with 3D animation and sensor safeguard against sunlight. For thirty years, VibrAlign has been growing across the country. Today the company proudly operates out of local offices in every major region.