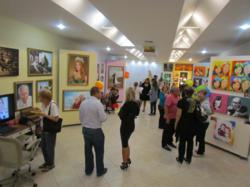 North Miami Beach, FL (PRWEB) February 13, 2013
Paint Your Life proudly announces the grand opening of their new store in North Miami Beach, Florida. Customers can walk into their new 3479 NE 163rd St. location and see samples of each of the products offered. This new store is an expansion of the company's highly successful web business, and brings the products closer to the people that wish to purchase them.
In the store, customers can see samples of their pictures to paintings in which their artists will take a customer's photograph and create a museum quality oil painting from it, as well as samples of every other type of customized art that the company offers. This gives clients the opportunity to see and touch the art before ordering, something which is a new concept in the art world, as most often, people must wait until the very end of the creation process before seeing what their art will look like. In many ways walking into this new location is like walking into an art gallery.
The opening of the new store was clearly a great success, with people from around the Miami area attending and placing orders for Valentines day presents. One of the most popular services, which garnered much acclaim, were the canvas pop art prints. With canvas pop art prints, customers choose from a wide range of special effects and styles using one of their favorite photographs. The final result is digitally printed and suitable for framing. These prints make excellent gifts for any occasion.
Paint Your Life considers their new North Miami Beach location to be unique as it is the only store offering all of these types of artwork under one roof. Services include creating a portrait from a photo, which results in a one hundred percent hand painted portrait completed by one of the many master artists of Paint Your Life. Among the other product choices that customers will have access to is an array of printed photos on canvas, custom designed canvas styles; canvas pop art prints, and hand crafted painting reproductions.
Not only does Paint Your Life plan to continue offering these amazing works of art at very affordable prices, they also plan to continue adding new services to appeal to an ever-widening audience. The potential for this new form of art and the Paint Your Life store is virtually unlimited. Buyers can use the services offered to create their own idea of the perfect wall art for home or office. Customers can also find the latest specials and coupons on the Paint Your Life website where there are always extra savings available.
PaintYourLife.com, a world leader in personalized pop art canvas offers a wide array of photo to painting options for their customers to choose from. These can all be seen at their new location in North Miami Beach. For more information contact PaintYourLife at 3479 NE 163rd St. North Miami Beach, Florida.