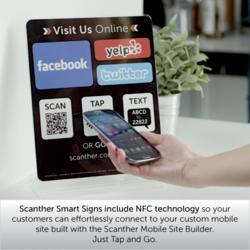 We think Scanther is perfectly timed for today's business climate because it enables businesses to get more likes and balanced reviews online
Austin, Texas (PRWEB) February 13, 2013
Austin-based Scanther has just launched its Social Media Smart Sign and Mobile Website Builder product line. Scanther is a new line of retail boxed products, ideally suited for businesses that have a physical location, such as restaurants, bars, coffee shops, clothing stores and most types of retailers. The formal launch of the social media marketing product line for businesses will be in Austin, Texas at South by Southwest (SXSW) Trade Show on March 10-13, 2013.
Scanther is a complete solution-in-a-box for businesses that need more reviews, likes, follows, and check-ins on Facebook, Google+, Twitter, Yelp and other social media sites. Each Scanther kit comes with a counter sign, 2 decals, 2 window clings, and a hosted mobile website to facilitate social media interaction with customers while they are at the business location.
Scanther works by engaging customers with smart phones to choose from scanning a QR code, tapping an NFC tag, or text messaging to interact with the sign. Customers are then sent to a custom mobile site built with the Scanther Mobile Site Builder that has been designed to engage customers with social media. The signs and hosted mobile website activate in as few as 10 minutes.
Major benefits to business locations include: (1) Social media marketing to get more likes and online reviews, since customers interact while they are at the business location; (2) Social media optimization to generate more reviews from all customers, and solves a common problem of artificial imbalances in the number of negative vs. positive online reviews; (3) Includes a hosted mobile website that is easy to setup and designed to engage customers with social media; (4) The customizable smart signs create a colorful, professional appearance and eliminate the need for improvised signs; (5) Affordable price of under $70 to purchase and $10 per month with no long-term contracts.
"We think Scanther is perfectly timed for today's business climate because it enables businesses to get more likes and balanced reviews online," says EJ Archuleta, co-founder. "In addition, since search engines key on social media presence for ranking websites, Scanther can help get more traffic to their main website" Archuleta continued.
Austin-based Scanther combines social media, marketing and advertising strategy with emerging technologies to deliver their clients more customers and higher profits. The company's comprehensive approach has three primary objectives: (1) increasing website traffic and social media interaction; (2) using analytical tools and a systematic process to measure the results; (3) lowering the cost per customer acquisition or retention.
Leading up to the launch at SXSW, Scanther is currently available for pre-sale on the popular crowd funding site indiegogo.com, which can be accessed here or the company's main website at http://www.scanther.com.
Since 2012, the company has served a range of business types and sizes, nationwide, from its headquarters in Austin, Texas. For more information about Scanther, contact EJ Archuleta, co-founder, at his email: info (at) Scanther (dot) com