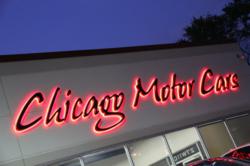 Providing Excellence in Product and Service.
(PRWEB) February 13, 2013
Chicago Motor Cars, an industry leader in sports, exotic, and luxury automotive sales, is getting ready for a strong start to the spring sales season. It's no secret that the economy hasn't been as strong as it has in the past, but Chicago Motor Cars has worked hard to acquire inventory to meet the needs to their most demanding clients. Recent investments in choice, high-end inventory has further solidified Chicago Motor Cars' place as a leader in the luxury and exotic marketplace.
"We are thrilled to continually provide such amazing cars for our clients" says Chris Moran, Internet Manager at Chicago Motor Cars. "We've always had a healthy selection of Ferrari, Lamborghini, Bentley and other high-end automobiles, but Chicago Motor Cars is exploring niche markets with products like the Ford GT, the Dodge Viper, and the ever-popular Chevrolet Corvette. At Chicago Motor Cars, we're focusing on the technological Nissan GT-R, and we've also sold many Porsche 911s at Chicago Motor Cars"
Chicago Motor Cars knows that a sports or exotic car is not for everyone, so the Chicago Motor Cars sales staff is trained to consult their clients to find which Chicago Motor Cars vehicle meets their needs.
Andy Ehret, sales consultant with Chicago Motor Cars recalls a time that he had to find a very particular car for his Chicago Motor Cars customer. "I took a call here at Chicago Motor Cars from a customer in Florida who was looking for a very particular car. He knew Chicago Motor Cars has a reputation to be able to find some of the finest cars out there, even the unique ones. I found a supercharged Corvette Z06 that met the customer's needs, I had the car shipped here to Chicago Motor Cars. Once it arrived at Chicago Motor Cars, we inspected and detailed the car. My customer flew here to Chicago Motor Cars to see the car in person, and it was spectacular. To say that he was satisfied would be an understatement, he was overjoyed when he saw his new Corvette from Chicago Motor Cars." Another satisfied Chicago Motor Cars customer!
With two locations, over 250 cars in stock and an expert staff ready to work, Chicago Motor Cars is ready for their spring season. You can visit Chicago Motor Cars complete inventory online at ChicagoMotorCars.com.