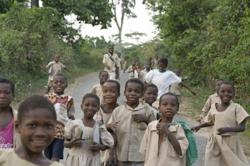 MANGO, TOGO (PRWEB) February 13, 2013
Although completion of a 40-bed hospital in West Africa is still roughly two years away, missionaries serving with The Association of Baptists for World Evangelism (ABWE) have already had incredible opportunities to bring hope and healing to those living in this impoverished area of the world.
In a town called Mogu, a man from a tribe called the Fulani let his cattle graze through a neighboring Ngangam tribesman's field, destroying the crop. The Fulani are a hated people group in Togo because of their nomadic lifestyle. As a result of the wandering cow, the Ngangam attacked the Fulani, burning their homes and driving them out of their village.
After the attack, the Fulani fled in terror, making an arduous 15-mile journey to Mango with just the clothes on their backs. The refugees eventually settled into two different camps; one such camp of about 400 refugees is located just behind the campus of ABWE's Hospital of Hope.
"It was heartbreaking to see these people in tents, knowing that many of them have lost everything," said ABWE missionaries Kevin and Emily Hall. "(Yet) what an opportunity we have had to show the love of Christ! We were just visiting and saying, 'God loves you, and we love you because He loves us.'"
ABWE's missionaries quickly mobilized to help. They visited the refugee camp repeatedly, each time bringing care packages filled with medicine, food, and fabric for new clothes.
Once the violence subsided, ABWE missionaries returned with some Fulani to their village, where they helped repair homes damaged in the attack. Normally a very shy and downtrodden people, the ABWE missionaries' outreach to the Fulani helped make incredible inroads and build relationships with people who have been traditionally reviled.
"I think we represent the love of Christ to them," Emily said. "They have never experienced that. Ever."
ABWE began ministering in Togo in the 1970s. After several years of ministry in the southern regions, a team of doctors decided to continue their medical work in the northern region, where the needs are great—both physically and spiritually. Already 70 percent complete, the Hospital of Hope will minister the love of Christ through meeting the spiritual, emotional and physical needs of all who come through its doors.
To find out more about the Hospital of Hope, visit http://www.togo.abwe.org/.