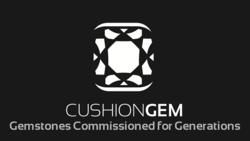 a singular secure immersive online experience that enables them to follow their gem's progress
New York, NY (PRWEB) February 14, 2013
Cushion Gem, http://www.cushiongem.com a start-up company founded by gemstone veteran Richard Orbach, announced today the Spring 2013 upcoming launch of its new site and web portal that allows individuals the opportunity to select, purchase and view the creation, cutting and polishing of their precious gemstones from start to finish via a secure web connection. Cushion Gem, built by Orbach, who has more than 35 years experience dealing in gemstones, simplifies the commissioning of precious gemstones for traders and individuals seeking to procure stones of the highest quality.
Through the service, signature collections are being cut to order based on historic specification by the trade's pre-eminent lapidary Reginald C. Miller Inc., cutters of the 62.02 carat Rockefeller Sapphire, the 15.97 carat Alan Caplan Ruby as well as many of the most important auction record-breaking gems of the last half a century. Cushion Gem's onsite gem-lab and imaging studio is located in the same space as the famed cutters workshop, situated in a high-security building off of Fifth Avenue in New York's diamond district.
Cushion Gem offers clients exclusive access to own custom-cut exotic gemstones formed in the shape the client desires based on the limitations that available rare gem materials present, all guided by the firms unparalleled experience in fulfilling the promise of good gems - through re-shaping - to become the great gems they were meant to be. Once the process begins, clients can watch and partake in the process of shaping their own unique stones via a secure web portal that's available only to them through a password-protected interface.
Through its secure web portal, Orbach's new venture provides its clients with a singular secure immersive online experience that enables them to follow their gem's progress and to become part of a process that has long been protected from the public eye.
"Cushion Gem is about creating a one-of-a-kind experience so that people can follow the creation of their gemstone from inception to the polishing of their stone," said Orbach, founder of Cushion Gem. "This is an entirely new process and puts some of the control into the hands of our clients.
"Gem materials are naturally rare and costly in the first place - why would anyone want to own a gem whose promise has not been fulfilled? It's my goal to fulfill that promise through re-shaping and re-imagining the optimal shape with our clients side by side. Cushion Gem is ready to provide a service and product never offered before to all generations of gem enthusiasts whether they are jewelers, dealers, collectors or consumers; each one relishes the empowerment to shape, form, originate and personalize their purchases whether online or offline" he added. "My intention is to simplify the 'commissioning' processes and to flatten its hierarchical nature to include a wider audience."
Once considered the province of royalty, the commissioning of a precious gemstone is now open to all who enjoy the feeling of empowerment, purpose and control over something they once had no clue they could influence.
To ensure quality and professionalism, Cushion Gem uses the cutting guidelines set forth by Jerrold Green, lapidary master and owner of Reginald C. Miller Inc. for each gem type and shape, and offers discerning buyers the opportunity to commission a unique one-of-a-kind gemstone in a wide range of gem materials based on the clients budget.
Orbach's confidence in Green is shared with many other gem insiders. "Jerry's workshop - in which I have been privileged to sit for more than a decade - is the New York crossroads of the global fine gem trade for a reason; no one understands gems better than the people who form them and of all the people who form them, there's only one who truly learned it directly from Reginald Miller himself and that's Jerry Green. In some ways Jerry has surpassed his teacher which - if you know gem history for the last century - is nothing short of remarkable."
According to Green, "The business model established by Cushion Gem has never been done because no-one has dared to think it through like Richard (Orbach). Richard's the antithesis of your typical gem dealer and our previous collaboration on CherryPicked.com (an award winning site and process that evolved into Cushion Gem) is a perfect example; he makes complex things simple, cuts through the static and knows what really matters in making gemological decisions from purchase and certification to re-cutting. The Cushion Gem concept celebrates and shares the art of the lapidary in a very organic way."
Whether for collecting, investment, gifting or special occasions like engagements and anniversaries, gems commissioned through Cushion Gem allow clients to see every step of the process, all of which is done under the supervision of the same people who cut the world's most important gemstones since 1946.
The outstanding value proposition of Cushion Gem is that it infuses a greater value for everyone involved in the process as it allows those purchasing, and those who are to enjoy the stones, a sense of purpose, meaning and personal involvement in the forming of a precious natural treasure to be enjoyed and ultimately handed down for generations.
To learn more about Cushion Gem or to view an educational video about its process of working with clients to craft cut-to-order gemstones, visit http://www.CushionGem.com where the video can now be seen in Chinese, Spanish, Russian, French, German, Portuguese, Korean, Japanese and Italian.
About Cushion Gem
Cushion Gem enables the procurement of precious gemstones through a secure online portal that allows individuals the opportunity to view the creation, cutting and polishing of the gemstones from the beginning of the process to the end. The company is the creation of Richard Orbach, a serial creator who always pushes the envelope using innovative technology and real-world gemstone trading expertise to offer his clients extraordinary value.