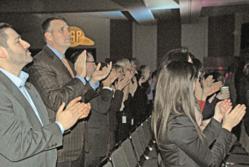 "These results are a testament to what you all do each and every day."
St. Paul, MN (PRWEB) February 12, 2013
At the annual All-Company Meeting this morning Securian Financial Group announced that, because of excellent 2012 results, the company's board of directors approved a 10 percent of salary contribution to employees' retirement plan accounts.
This is the 39th consecutive year Securian awarded profit sharing distributions to eligible associates. The percentage of salary distributed is based on a formula that evaluates the previous year's sales, earnings and service. Approximately 2,500 employees received the 10 percent distribution announced this morning.
"All of you contributed to achieving our goals by staying focused on growing our businesses and effectively managing expenses," Chairman and CEO Robert L. Senkler told the 2,400 cheering Securian associates at the River Centre in downtown St. Paul. Additional employees watched via satellite from the company's group insurance and retirement offices around the country and its property-casualty unit in Macon, GA. "These results are a testament to what you all do each and every day."
Securian's 2012 results exceeded 2011 in key categories, including:
*27 percent increase in proprietary insurance sales to $2.9 billion
*24 percent increase in core operating earnings to $212 million
*10 percent increase in insurance in force to $853 billion
*11 percent growth in assets under management to $36.5 billion
The soaring results suited the theme of the meeting, "Voyage to Planet PSP." The show was cast exclusively with Securian employees and included inside jokes, live action, and videos, some hilarious, some inspiring.
PSP stands for Performance Share Plan, Securian's defined contribution retirement plan. The company contributes the same percentage of annual salary to every employee's retirement plan account regardless of whether – or how much – he or she contributes. All employees have the option of taking half of the company's contribution in cash.
"More than ever people want to do business with a company they trust and will be there when needed – two qualities that certainly apply to Securian," said Securian President Christopher M. Hilger. "As a mutual holding company, we operate in the best long-term interests of our customers."
Securian has won numerous employer awards over the years, the most recent being ranked sixtieth on the 2013 list of Top 150 Employers in the US out of the 872 companies considered. Other awards include:
*eight appearances on the AARP's annual list of "Best Employers for Workers over 50"
*the Minneapolis Star Tribune's list of "Top Workplaces in Minnesota" each of the three years the list has been published
*17 appearances on Computerworld's annual list of the "Best 100 Places to Work in IT"
*seven appearances on the Minneapolis-St. Paul Business Journal's list of "Best Places to Work in the Twin Cities."
Securian Financial Group is located in downtown St. Paul, MN, a few blocks from where it was founded in 1880. Securian and its affiliates provide financial security for individuals and businesses in the form of insurance, investments and retirement plans. Now one of the nation's largest financial services providers, it is the holding company parent of a group of companies that include Minnesota Life Insurance Company, Advantus Capital Management, Allied Solutions, Capital Financial Group, Cherokee National Life Insurance Company, CNL/Insurance America, Personal Finance Company, Securian Trust Company, Securian Financial Services, Inc., Securian Casualty Company, and Securian Life Insurance Company.