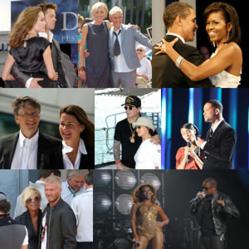 It's interesting to watch how the trends of two extremely popular people can combine to form an even more impressive super couple
Philadelphia, PA (PRWEB) February 14, 2013
In celebration of Valentine's Day, PopTrending.com has compiled a list of today's top 20 most famous couples. Using a variety of statistics collected daily from news, the web, and social media sites, PopTrending.com is able to calculate real-time popularity rankings for over one thousand of the most famous people in the world. In this special edition, the website has extended its formula to analyze the relationships of public figures, combining their individual scores to calculate the most famous celebrity couples.
Expecting parents Kim Kardashian and Kanye West top the list with tons of recent news coverage and social media interest in their soon-to-be celebrity bundle of joy. Ironically, the first couple, Michelle and Barack Obama, actually finished number two on the list. Also ranking at the top of the charts are musicians Beyoncé and Jay-Z in third place, followed by David and Victoria Beckham at number four, and Brad Pitt and Angelina Jolie ("BrAngelina") in the fifth place position.
"It's interesting to watch how the trends of two extremely popular people can combine to form an even more impressive super couple" says founder Josh Robinson. "We've seen this happen with Jason Derulo and Jordin Sparks, Justin Timberlake and Jessica Biel, and most recently with Kim and Kanye. We're also quite pleased to see that Ellen and Portia made the list".
To see the complete list of the top 20 most popular couples visit http://poptrending.com/most-famous-couples.
PopTrending.com uses a proprietary algorithm to calculate daily popularity scores for over a thousand celebrities and famous public figures based on dozens of metrics including frequency of appearance in the news, activity on social networking sites, popularity in search engines, and presence in popular web content.
For more information on please visit http://poptrending.com.