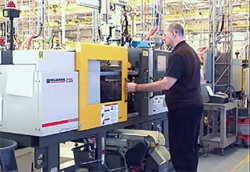 Novi, MI (PRWEB) February 15, 2013
Mastery Technologies announces two new training courses added to their collection. These two new courses on Injection molding, go hand-in-hand in teaching proper safety, cleaning and set-up procedures for injection molding workplaces. Both courses, Injection Molding Course 1 and Injection Molding Course 2, provide participants with a better understanding of; injection molding procedures and safety, how to best prepare for an injection mold change-over and how to properly remove an injection mold. These are Advantage™ courses, are found on masterytech.com, and cost $96.95 a play.
The injection molding courses cover the following topics:

General molding injection, machine, and setup safety
Mold setup preparation
Machine dependent, independent, and hybrid process documentation
Scheduling a mold change
Mold examination
Machine safety check
Preparation for mold removal
Mold removal – disconnecting and lifting
Install, setup and program an injection mold into a machine for a production run
Improper mold setup can cause serious safety hazards, as well as damage to the equipment. Proper training is imperative to keep the workplace safe. Knowledgeable workers create a safe workplace by being mindful of the use of injection molding safety procedures. These courses give employees the tools needed to maintain this knowledge along with guiding others around them. More information regarding these courses can be found at masterytech.com.
About Mastery Technologies Inc.
Mastery Technologies, founded in 1974, has partnered with leading video content providers to co-produce the largest interactive multimedia training library available to the workplace health, safety and environmental marketplace. Today, Mastery is extending their model to encompass all areas of workplace training. Mastery has helped thousands of companies develop greater competency and have created safer and secure workplaces. By expanding the scope of training Mastery believes it can enhance customer benefits, and help build more successful and effective organizations. Mastery's ultimate vision is to help reach every working individual with quality training.