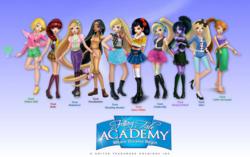 We are thrilled with the overwhelming industry response My Fairy Tale Academy has had thus far and are grateful to our partners at Toon Studio
New York, NY (PRWEB) February 12, 2013
Making its debut at the American International Toy Fair in New York City, booth # 2D02, enter the magical world of My Fairy Tale Academy, where iconic fairy tale Princesses and characters converge for the first time ever in a modern-day high school setting. Toting the latest cell phones, designer fashions, and hairstyles, teenage versions of your favorite authentic Princess characters like Snow White, Rapunzel, Belle, and Sleeping Beauty are re-imagined and re-styled in this original contemporary prequel to the classic story book tales from the original Junior Elf Children's Books. The line is launched by S-K Victory and spearheaded by industry veteran, Ken Price, formerly of Jakks Pacific, Inc. and his business partner Scott Coff.
"We are thrilled with the overwhelming industry response My Fairy Tale Academy has had thus far and are grateful to our partners at Toon Studio," says Ken Price, President of S-K Victory. "As the first of its kind, the teenage princesses have an edgy feel and look that appeals to todays modern girl. From Cinderella to Pocahontas, these classic tales are revamped for a whole new generation."
"Toon Studio is thrilled to be in partnership with high powered innovators like Ken Price and Scott Coff. They have both the business acumen and creative talents to manifest our compelling re-imagining of the great iconic fairy tale characters in the fashion doll industry," said Billy Phillips, President of Toon Studio.
Set in a performing arts high school, these ultra-hip and trendy teenage characters become fast friends long before their Princess days, spending their time in music, dance, art, and acting class together. With guest appearances by classic heroines and villains from hundreds of famous stories such as The Wicked Witch, Pinocchio, Peter Pan, and Red Riding Hood, My Fairy Tale Academy is an edgy twist for the Princess loving girl.
"This is the first time that a toy company has conceptualized and is bringing to market a modern-day take on the iconic fairy tale princess character stories—we've developed a complete line-up of original teenage versions of themselves and placed them in a high school setting," continued Scott Coff, President of S-K Victory.
The new doll line will also feature a series of webisodes and books that complement each doll's story. With a suggested retail price of $19.99, the dolls are set to debut spring 2013 at mass market.
The first webisode can be viewed here:
http://www.youtube.com/watch?v=NX681mBuVNk
About S-K Victory:
S-K Victory is founded by Ken Price and Scott Coff. Previously Ken Price served as Executive Senior Vice President of sales at Jakks Pacific, Inc. for the last 12 years. My Fairy Tale Academy is a complete line of fashion princess dolls, books, and webisodes based on the iconic fairy tale princesses and characters of the classic storybook tale's by Elf and Rand McNally. Launched by S-K Victory, the princesses and characters such as Cinderella, Snow White, Belle, and the Little Mermaid, converge for the first time ever in a modern-day high school setting. http://www.MyFairyTaleAcademy.com