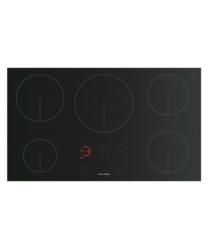 Ballwin, MO (PRWEB) February 12, 2013
Kitchen appliance manufacturer Fisher & Paykel boasts a long standing dedication to environmental responsibility. The company has taken another step forward in this mission with the release of the CI365DTB1 induction cooktop.
Induction technology, while not new, is gaining popularity as consumers weigh cost, energy efficiency, and durability. According to the US Department of Energy, induction technology can show a 10 to 40 percent savings in energy efficiency over electric coil or natural gas burners cooktops. Based on current utility price averages, induction cooktop technology yields the most savings in environments where the cooktop is used frequently, such as semi-professional or professional kitchens.
Fisher & Paykel marks their entry to the induction cooktop market with the model CI365DTB1 cooktop. Key advantages of this model include the flexibility of five cooking zones, a frameless cooktop design, eight heat settings, special safety features, and user-friendly soft touch controls. The CI365DTB1 is currently available as a 36 inch width model. The 36 inch width measurement accounts for over 30 percent of cooktop sales at goedekers.com.
While induction cooktops can boast significant energy savings and safety features, there are two important notes for interested consumers. First, not all cookware will work correctly with induction technology. Cookware must have a high ferrous metal content at the base in order to work with induction technology. This includes all cast iron cookware and most stainless steel cookware. Second, the glass surface of the cooktop - as is the case for any glass-surfaced unit - can be fragile under certain conditions. Users are advised to avoid rapid temperature changes, scratch-inducing behavior (such as excessive sliding or cutting), and dropping heavy objects.
Through a partnership with Cuipo (pronounced kwee-po), Fisher & Paykel continues its dedication to environmental awareness. With the purchase of any Fisher & Paykel appliance, users can protect 20 square meters of rain forest. As Cuipo purchases large tracts of land, the land is transferred to a non-profit foundation for permanent preservation. Learn more about this program at fisherpaykel.com/cuipo.
ABOUT FISHER & PAYKEL APPLIANCES
Established in 1934, Fisher & Paykel Appliances designs, manufactures and markets a range of innovative household appliances developed with a commitment to technology, design, user friendliness and environmental awareness. The two brands offered in North America include the contemporary styled Fisher & Paykel brand and the professionally styled DCS by Fisher & Paykel brand.
ABOUT GOEDEKERS.COM
Goedeker's is a family owned and operated home goods retailer located in the St. Louis, Missouri, suburb of Ballwin. First established in 1951 as an electronics repair shop, Goedeker's has grown to be one of the largest, most trusted independent retailers of home appliances, furniture, mattresses, and plumbing supplies online. For more information, visit http://www.goedekers.com/.