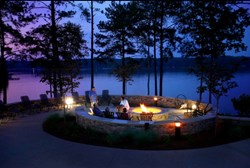 Best Georgia Community of the Year - Reynolds Plantation
Atlanta, Georgia (PRWEB) February 13, 2013
Real Estate Scorecard, an industry leader of online real estate reviews, announces the 2013 Bliss Award Winner for Georgia Community of the Year.
Real Estate Scorecard's comeback kid happens to be one of the best master planned communities in Georgia. Reynolds Plantation on Lake Oconee Georgia is the epitome of an all inclusive resort and is a golfer's dream come true. Home to six championship golf courses, a Reynolds Golf Academy, five clubhouses, six resort-style swimming pools, 16 tennis courts with stadium seating, a massive health and wellness center, four full service marinas and this does not include the first class Ritz-Carlton Lodge overlooking Lake Oconee. There are only a handful master planned communities in the Southeast who have this level of amenities. This large Georgia lake community quickly got smaller as Real Estate Scorecard mingled with the friendly property owners. Real Estate Scorecard is also impressed with the convenience of Lake Oconee Village, a modern shopping complex with a Publix, excellent restaurants, everyday retailers, and a movie theater, just beyond the gated entrance.
Property owners and employees panicked in early 2011 when Reynolds' lenders demanded repayment of its debt during one of the worst credit crunches of the century. Coming up with $44 million dollars in private financing on short notice was no easy task. It didn't take long for a financially sound hedge fund, to come to the rescue. MetLife acquired Reynolds Plantation amenities in August 2012 and both property owners and employees couldn't be happier. During this time, things never skipped a beat. Manicured lawns add to the neighborhood's exquisite curb appeal. Savvy buyers scooped up the deals, just like Metlife. Now home prices at Reynolds Plantation are back on the rise and we know why. When we kayaked Lake Oconee at sunrise, we clearly understood what makes Reynolds Plantation so special. Reynolds offers a variety of home choices: golf course homes, lakefront homes, small footprint cottages, large lakefront low rise condominiums or a lot to build your dream home.
To see all of Real Estate Scorecard's 2013 Bliss Award winners, visit:
http://realestatescorecard.com/breaking-community-news/best-community-of-the-year-2013-bliss-awards
About Real Estate Scorecard
Real Estate Scorecard writes unbiased real estate reviews providing in depth information about the best master planned communities in Florida, Georgia, North Carolina, South Carolina and Tennessee, all in an effort to help people discover where to retire. Website address: http://realestatescorecard.com