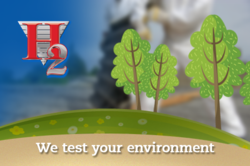 Clients praise the consulting company for their professionalism, attention to detail, and quick response.
Chino, CA (PRWEB) February 13, 2013
A leader in asbestos testing and air quality, H2 Environmental Services was honored by Chino, CA as the Small Business of the Year. This is the second time that the company, which answers customers' residential, industrial, and business needs with asbestos inspection, fungus, lead, and other environmental services, has been given this distinction.
Each year businesses in Chino, CA are recognized for the efforts they make to improve their city and the world around them. Many of these companies have created new jobs for the local economy, provided a valuable service to the community, or have made a worthy contribution to their neighbors in some way.
Known for their expertise when it comes to asbestos inspection, H2 Environmental Services focuses on creating an interior environment that is healthy for southern Californians. Their job has become even more important as science continues to show the connection between pollutants and health issues, such as asthma, allergies, and the common cold. Using the best equipment and highly trained staff, the company works with public institutions, home owners, and business owners, assisting them in following federal and state guidelines carefully when it comes to asbestos testing and detecting other harmful toxins.
H2 Environmental Services assists many clients in the Southern California area with a multitude of services that include:

Site assessment
Hazardous material detection
Asbestos management
Lead management
Fungus management
Air quality monitoring
Because different buildings have different challenges, when it comes to the quality of their indoor air, the company customizes each job to the needs of the client. Clients praise the consulting company for their professionalism, attention to detail, and quick response. The team is available at any time to answer client concerns and to help manage any aspect that the customer requires.
For more information about how H2 Environmental Services can help you improve the air quality in your home, school, or business, please visit their website at http://www.h2environmental.com.
About H2 Environmental Services:
Since 1995, H2 Environmental Services has been helping people in Chino, CA live happier and healthier lives. The company specializes in assisting home owners, businesses, industries, and public institutions with managing the quality of the air they breathe, using the latest equipment and techniques. As a partner, the company works with its clients to detect the presence of air pollutants and dangerous materials, manage the removal of the threat, and plan for further management of indoor air quality. To learn more about the services the company offers, visit http://www.h2environmental.com.
Contact Information:
H2 Environmental
800-524-3578